Cost Per Loyal User passes $4 for the first time - Fiksu
The mobile marketing firm notes that the cost is way up (117 percent) over last year
According to the latest Fiksu Indexes in August, the Cost Per Loyal User (CPLU) has jumped past $4 for the first time (see graph below). At $4.04, the CPLU is up 36 percent since last month and 117 percent over last year. Additionally, there was continued year-over-year growth on both the App Store Competitive Index and the Cost Per Install Index (CPI).
"August's results reflect heightened activity across the mobile advertising ecosystem, indicating that deep pocketed advertisers are putting ever-larger shares of their budgets into mobile, trading higher costs for greater audience precision. The takeaway for advertisers is that spending smart is a necessity to get in front of the right mobile audiences," the marketing firm noted.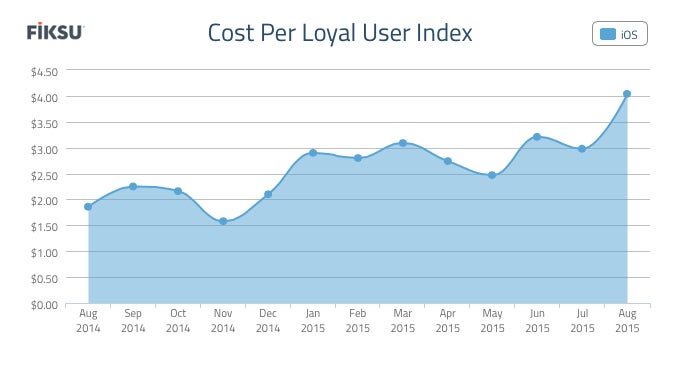 Fiksu CEO Micah Adler added, "Increasing costs across the landscape are nothing new, but particularly with activity surrounding new iPhones, iPads, and iOS 9 launches, marketers better be prepared for those costs to continue at or near these record high levels. If not, marketers could become acutely aware of the challenges of not reaching the right audiences."
You can read more analysis from the latest report here.