Command and Conquer dev: GLA was "pretty offensive"
"Now we'll probably just offend everybody"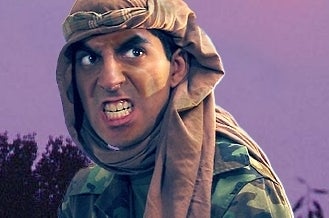 The next incarnation of classic strategy franchise Command and Conquer will attempt to break away from its traditional Middle Eastern enemies, in an attempt to make the title more politically correct.
"This is actually a pretty big change for the game. Anyone who knows this series will know the Global Liberation Army," Tim Morten of developer Victory Games told Polygon.
"But at the studio we had a bad reaction from people saying it was pretty offensive to have Middle-Eastern characters as militants."
Previously the Global Liberation Army featured in the game has a very Middle Eastern look, and its operations within the game have spanned to locations such as Somalia, Kazakhstan and Russia.
In the future Victory promised the enemies will be lead by five more ethnically varied generals.
"Now we'll probably just offend everybody"
The game is due for release this year, and will combine the series' strategy game play with a free-to-play business model. It's the first title for EA studio Victory Games, which spent almost a year as BioWare Victory between 2011 and 2012.