Colin Kaepernick returns to Madden NFL
EA Sports makes free-agent quarterback available for the first time since Madden 18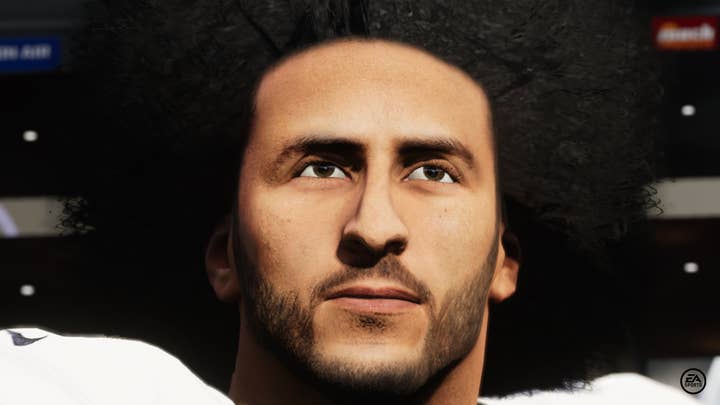 EA Sports has announced that free-agent quarterback Colin Kaepernick will be available to recruit to teams in Madden NFL 21 starting today.
"Colin Kaepernick is one of the top free agents in football and a starting-caliber quarterback," reads a statement in a tweet from the official Madden NFL account.
"Knowing that our EA Sports experiences are platforms for players to create, we want to make Madden NFL a place that reflects Colin's position and talent, rates him as a starting QB, and empowers our fans to express their hopes for the future of football."
Kaepernick has appeared in previous Madden titles, formerly as a member of the 49ers.
Throughout the 2016 NFL season, Kaepernick knelt during the playing of the National Anthem in protest of racial injustice and police brutality in the United States, a protest that sparked polarized reactions and, over time, more widespread protests.
"I am not going to stand up to show pride in a flag for a country that oppresses black people and people of color," Kaepernick said at the time.
"To me, this is bigger than football and it would be selfish on my part to look the other way. There are bodies in the street and people getting paid leave and getting away with murder."
Following the 2016 season, Kaepernick departed the 49ers and became a free agent, appearing as such in Madden NFL 18, after which he no longer was included due to not being a part of the NFL Players Association's group licensing agreement with Madden to use player likenesses.
His name was included as a part of song lyrics in Madden 19, though it was initially censored from those lyrics due to, per EA, a misunderstanding about whether or not the publisher had the rights to use it.
Kaepernick also filed a grievance against the NFL accusing the team owners of colluding to keep him and safety Eric Reid out of the league because of their protests against racial injustice. The grievance was settled in February of last year.
Just last month, and following a summer of widespread protests against racial injustice across the United States, NFL commissioner Roger Goodell publicly stated that he wished "we had listened earlier, Kaep, to what you were kneeling about and what you were trying to bring attention to."