Coffee Stain invests in new Gothenberg studio Lavapotion
Goat Simulator studio will be co-owner of new outfit
A four-person team of veterans from the games and film industries has just announced the formation of Lavapotion - a Gothenberg studio working on a premium fantasy strategy title for PC and tablet audiences.
The four-person team is looking to expand to ten whilst the first project takes shape, and will be looking to raise further capital in order to facilitate that expansion, but the new outfit has already had a considerable financial boost from its co-founder Coffee Stain.
The only external investor at this stage, Coffee Stain maintains a minority stake, which both parties make clear does not constitute a publishing deal, although Coffee Stain has recently announced that it will be publishing titles elsewhere.
"We haven't actually signed for a publishing deal; it is a straight up investment," says Magnus Alm, Lavapotion co-founder. "To be clear, we really enjoy working with the team at Coffee Stain and we would be very open to discuss publishing as well. The guys at Coffee Stain are the type of people we could see ourselves work with for a very long time. We want to build something very stable and long term, that seem to resonate well with what Coffee Stain wants to do."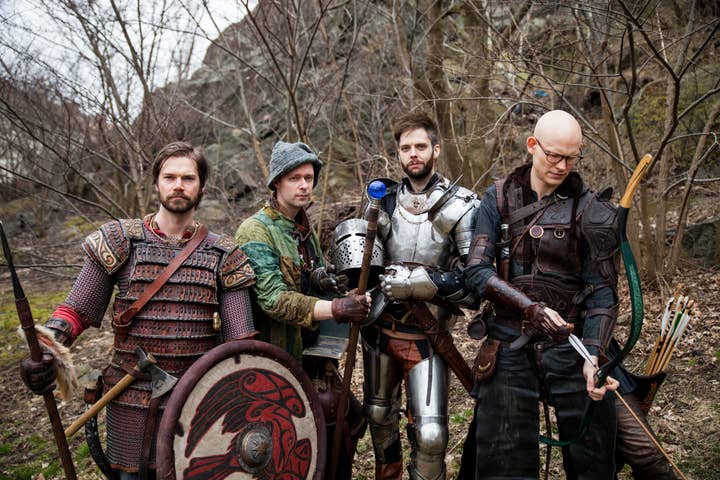 It's not the first investment project for Coffee Stain, which has a similar arrangement with Danish studio Ghost Ship. Coffee Stain CEO Anton Westbergh agrees that the plan is to build lasting partnerships based on trust and mutually beneficial results.
"We like to invest in nice people and talent. That's what we did with Ghost Ship and Lavapotion," said Westbergh. "It's also a statement from our side that we're committed. Publishing has inherited something of a bad reputation from ancient models and agreements that have been plied onto inexperienced indie developers and young studios with bad results.
"We want to make clear to our partners that we are not in this just for a quick cashout. We try build long lasting relations and investing into companies is one way of trying to achieve that."
As for the deal itself, the details aren't public, but Westbergh says that there's no set template when it comes to their partnerships or publishing deals.
"Honestly, it feels just great to leave the free-to-play bullshit behind us"

Magnus Alm - co-founder, Lavapotion
"We try not to stick to a set formula," he says. "Every deal we offer has been tailored to the specific partner we're working with in that moment. IP important for you? You keep it. What do you lack? Our mission is to fill that gap. The actual discussions/negotiations and making sure that everyone understands everything is a very crucial thing for us.
"We probably spend more time on this than other publishers do, just because we want to make sure that the agreements we sign are fair and good for both us and our partners. Regarding number crunching, we don't do too much of that, but we see sales potential as a very important parameter when we pick titles. Again, how we judge sales potential is very much gut feeling, but in general we like expandable projects where you can establish community.
"We have this general process where [we] pretty much sit down and discuss something we look at, and as long as there's a couple of us hyped enough about it, we try to make something happen!"
As for Lavapotion, Alm and his co-founders Carl Toftfelt, Niklas Borglund and Patrik Liljecrantz have varied backgrounds, but the core shared principle is experience in social and free-to-play games. However, Alm leaves no doubt as to whether they'll be continuing in that vein.
"Honestly, it feels just great to leave the free-to-play bullshit behind us," says the Swede. "Getting to work with an investor who cares more about the way we design spell systems rather than how we maximize profit is a fresh break from what we are used to.
"It is a quite ambitious project in terms of scope. We are in pre-production right now, hammering out prototypes and trying gameplay styles as well as technical solutions that will work in the long run. You might call it Triple-I or something like that I guess. We have a clear ambition to focus on finding a fun core game mechanic and then building upon that."