Cloud9 signs its first-ever all-woman esports roster
Valorant team formerly known as MAJKL becomes Cloud9 White, begins competing this week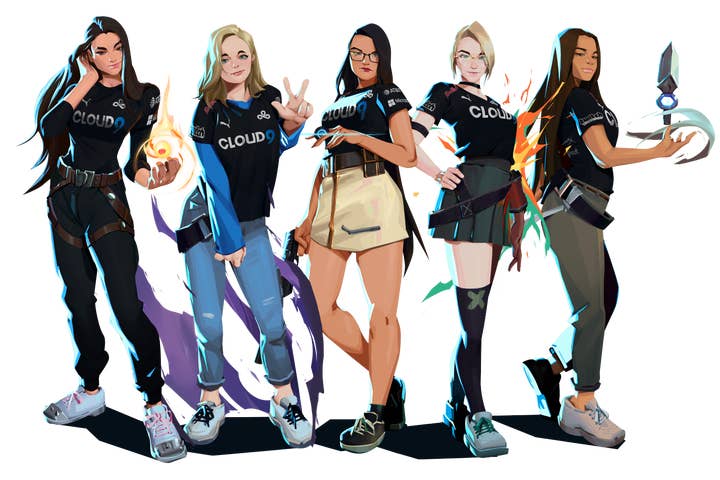 Cloud9 has announced today that it is introducing its first-ever all-woman professional esports roster, Cloud9 White.
The roster is made up of former independent North American esports team MAJKL: Alexis Guarrasi, Annie Roberts, Jasmine 'Jazzy' Manankil, Katsumi, and Melanie 'meL' Capone.
Cloud9 White will compete in Valorant, and will play in the same tournaments as the Cloud9 men's team, Cloud9 Blue.
The two teams will also practice with one another and share resources to improve as a group -- though Cloud9 will still have its own dedicated coaches -- with a long-term goal for Cloud9 White is to eventually have its members play on the same team as the men.
"Our goal with this roster is to eventually have an integrated roster or to have other orgs wanting to put these ladies on their starting rosters," said Cloud9 senior general manager Gaylen Malone in an email exchange with GamesIndustry.biz, when asked about the decision to have separate men's and women's teams.
"I spent a lot of time talking to this roster about their goals and how they want to achieve them. Cloud9 and this roster both believe that they will see the most growth and success if they were treated just like Cloud9 Blue, so that's what we plan to do!"
Though this is Cloud9's first all-woman roster, the organization has had a handful of women players over the years, including Hearthstone player Hafu and Rainbow Six Siege player Goddess.
Malone acknowledged that given the many barriers and disproportionate levels of harassment women receive in the esports space, it was necessary to dedicate specific resources to supporting the new roster.
"With the support of their manager, coaches, our sports psychologist and Riot Games, these women will be well taken care of," she said. "They will be working with a talented team manager who has a proven track record for growing talent into T1 players in Overwatch. She is someone who will watch scrims with the coaches and will be deeply invested in their success. We wanted to have a manager for the team that had the experience of being a woman in the gaming space, who has dealt with toxicity, and also has in-depth knowledge of the game so that they could look to their manager as a mentor and someone they could talk to about anything.
"However, I also want to note that these ladies have dealt with this toxicity for a while in gaming and have reached some of the highest levels in the game in spite of that. They have strong heads on their shoulders and haven't let the toxicity and harassment limit their success. While they shouldn't have to deal with the harassment they get, I think it's important that we acknowledge that they have found so much success in spite of it. Their drive and mindset is something that is truly impressive."
Cloud9 White will begin playing this week, starting with the First Strike tournament qualifiers tomorrow, which it will play in alongside Cloud9 Blue.
"This is something that is a really big passion project of mine! As General Manager of a tier-1 esports organization, I feel like it's my responsibility to at least try to solve some of the issues of gender equality in esports," said Malone.
"I'm extremely thankful to the Cloud9 ownership and our sponsors such as AT&T for supporting my vision. I ask that our fans welcome these women to our org with open arms and show them a ton of support as they work towards achieving their goals!"