Check out the full GI Live: London 2022 line-up
PlayStation, Xbox, Valve, Twitch, Disney, Meta, Hiro Capital and much more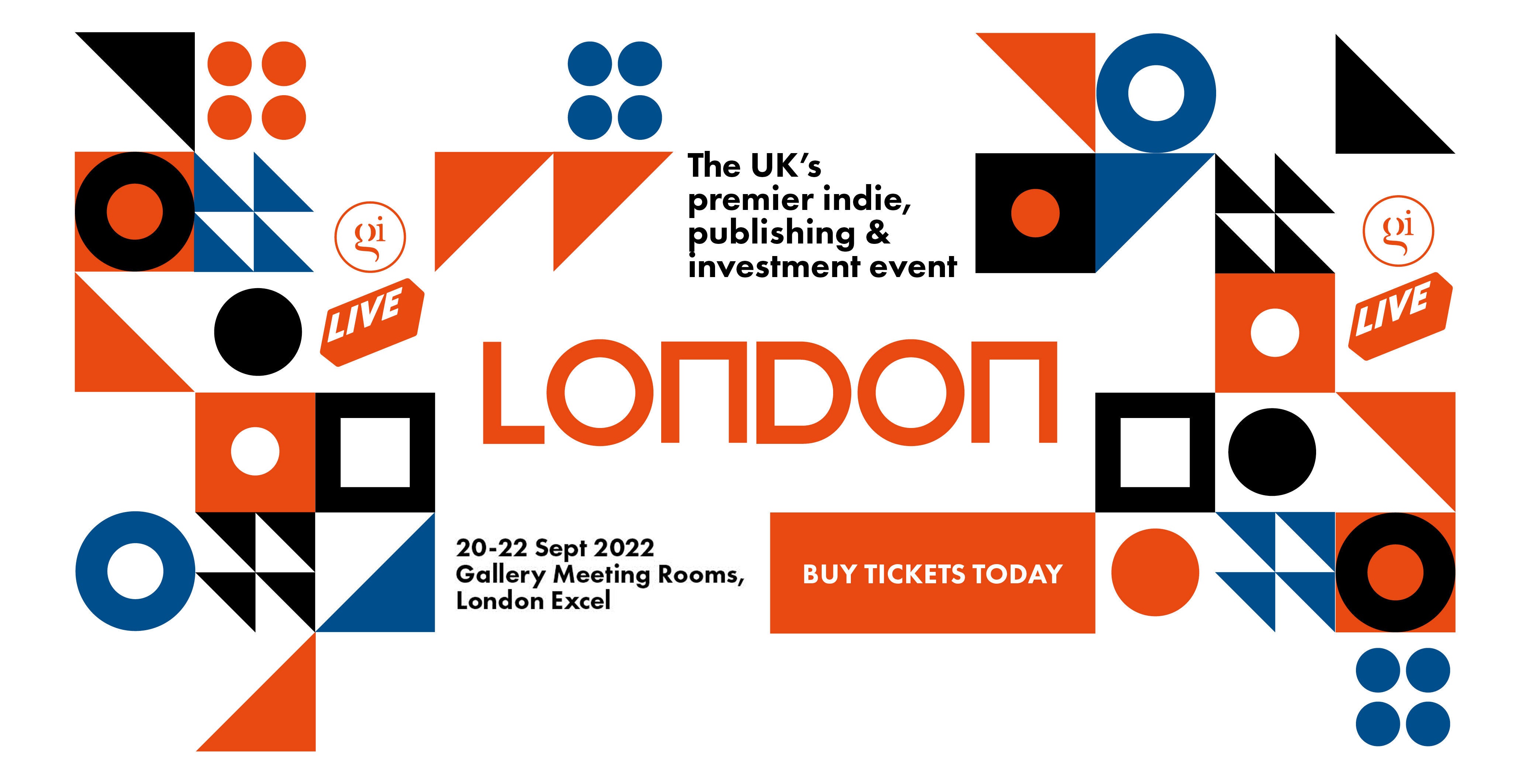 GI Live: London is next week, and here is the final schedule of speakers and roundtable sessions.
GI Live is the UK industry's premier publishing, investment and business development event, and will take place Wednesday, September 21st - Thursday, September 22nd at London Excel, with a digital meeting day on Tuesday, September 20th. Tickets are on sale now and include access to the EGX consumer show, which runs from Thursday - Sunday.
Major platform holders PlayStation (Shuhei Yoshida), Xbox (Ben Robinson) and Valve (Alden Kroll and Erik Peterson) will all be answering questions and providing updates to games studios at the event.
UK development powerhouse Rare (Craig Duncan) will be sharing stories from its experiences of Game Pass and becoming a live service studio. Indie dev Dlala (Aj Grand-Scrutton) will tell us how it won over major companies such as Disney and Microsoft. Twitch (Mitsu Hirakawa) will be discussing ways developers can make the most of the video streaming platform. And Hiro Capital (Sir Ian Livingstone and Spike Laurie) will be offering an update on the investment scene.
Plus, there will be talks and advice coming from Gina Jackson OBE, Interior/Night's Caroline Marchal, Meta's Jane Kinnaird, Aurora Agency's Dawn Paine, Kinguin's David Yarnton, London Venture Partners' Harry Hamer, Square Enix's Lauren Hunter, Makers Fund's Archie Stonehill and Creative Enterprise's Mehjabeen Patrick and Cecilia Thirlway.
Finally, on the digtal-only day (Tuesday, September 20th) Disney's Sean Shoptaw will talk about the entertainment giant's work with developers large and small.
There will also be in-depth roundtables from ID@Xbox, Yogscast, Curve, Creative UK and Renaissance PR.
That's on-top of the meeting system, which runs through the duration of the event. Plus our networking lunches and drinks.
Here is the full event line-up.
Tuesday, September 20th
2pm (UK)
Why Disney's games teams are working with developers of all sizes (Sean Shoptaw, Disney)
AAA games based on Disney franchises are on the way from the biggest games companies on the planet, such as EA, Ubisoft, Sony, Bethesda and more. But did you know Disney is working with indie creators to bring classic characters and franchises back to consoles? In this video Q&A, Walt Disney Games' Sean Shoptaw talks with GamesIndustry.biz about how the entertainment giant is working with partners of all shapes and sizes.
Wednesday, September 21st
09:30
Sign-in and teas/coffees/networking
10:30
Fireside Chat: Shuhei Yoshida, PlayStation Indies
The development legend will discuss all the things PlayStation is doing, and will do, to support the indie development community.
11:00
Fireside Chat: Rare's Voyage into the Unknown - Live service, Game Pass & Pirates (Craig Duncan, Rare)
Craig Duncan will discuss Rare's transformation from making traditional single-player and multiplayer games, into creating and managing the ever-evolving, live-service hit Xbox title: Sea of Thieves. He'll share lessons that the team have learned, plus its experience as being the first major game to launch day and date in Xbox Game Pass.
11:30
Comfort Break
11:40
The GI Live Investment Panel
Lauren Hunter (Square Enix Collective), Cassia Curran (Curran Games Agency), Bobby Wertheim (Curve Games) and Harry Hamer (London Venture Partners) will discuss the latest trends in investment and publishing with GamesIndustry.biz Editor-In-Chief James Batchelor.
12:20
Lunch and Networking
13:30
Interview: Sir Ian Livingstone (Hiro Capital)
Hiro Capital's Spike Laurie will interview Sir Ian Livingstone to discuss the latest trends in investment and offer advice to studios.
14:00
Roundtable: Curve Games
Here's your chance to meet the Human: Fall Flat publisher and put your questions to the company
14:00
Presentation: Using Twitch to Help Build Communities and Strengthen Your Game Launch (Mitsu Hirakawa, Twitch)
The video streaming giant will share advice with studios on how to make the most from its platform
14:30
Presentation: Everyone hates us and we don't care -- but we should) (Gina Jackson OBE)
Games haven't received the social acceptance by both the global mass media and the general public that it should. We are proud of the revenues we make and the audience engagement we can deliver, but what could we do as an industry to get cultural cut through, and to get governments, politicians and the press onside? And what could that deliver for us and our players?
15:00
Networking Break
15:00
Roundtable: Renaissance PR
Here's your chance to meet with the popular PR agency and receive advice on getting attention for your game and studio
16:00
Presentation: Lessons From Supporting 100 Game Companies (Mehjabeen Patrick and Cecilia Thirlway, Creative Enterprise)
Creative Enterprise presents invaluable advice on running your games studio - essential tips on becoming sustainable based on working with more than 100 games companie sover the past few years.
16:20
Presentation: Making Your Company Investable (Archie Stonehill, Makers Fund)
Archie Stonehill from major international games investors Makers Fund gives an honest presentation about how you can make your company more investable.
Thursday, September 21st
10:00
Roundtable: Creative Enterprise
Join Creative UK to find out more about the organisation's funding and programmes for games developers based in the UK.
11:00
Roundtable: Yogscast
Come and meet Yogscast Games and find out more about this successful and innovative publisher, and show them your games
12:30
Lunch and Networking
13:30
Talk: From Battletoads to Mickey Mouse: Tips For Working With Major IP (Aj Grand-Scrutton, Dlala)
The CEO of Dlala Studios, AJ Grand-Scrutton, gives his advice and tips on working with established IPs - including how to pitch and following up on meetings. This is from the company that developed a new Battletoads game and has just announced it is working on Disney Illusion Island - don't miss this!
14:00
Presentation: Opportunities with ID@Xbox (Ben Robinson, Xbox)
ID@Xbox's Ben Robinson with the latest opportunities for developers on the Xbox platform.
14:25
Comfort Break
14:35
Panel: Gaming – The New Battleground for the World's Biggest Companies
Dawn Paine (Aurora Creative Agency) discusses how games is attracting bigger names from the wider world of brands with Meta's Jane Kinnaird and Kinguin's David Yarnton
15:15
Networking Break
15:15
Roundtable: ID@Xbox
Here's your chance to sit down and speak directly with Microsoft about all things Xbox
16:00
Valve Live (Alden Kroll, Erik Peterson, Valve)
A live Q&A with Valve about Steam and the latest opportunities with the platform. The speakers will be streaming in live from Seattle
16:45
Fireside Chat: The Long Road to As Dusk Falls
A fireside chat with Caroline Marchal (Interior Night) about the development and release of As Dust Falls, from changing publishers to launching on Game Pass and more.
18:00 - 20:00
GI Live Drinks Reception
Mingle with attendees at the Novotel Excel's Upper Deck Bar, courtesy of Renaissance PR and Amiqus
Meanwhile, more than 60 investors and publishers have signed up to the event, with many looking to meet with independent creators.
Attendees include Valve, Epic Games, ID@Xbox, Amazon, Hiro Capital, Square Enix Collective, Sega, Curve, Creative UK, Frontier, Green Man Gaming, Hiro Capital, Miniclip, Makers Fund, Firesquid Games, Firestoke, Creative Enterprise, Kwalee, KISS, Neonhive, LEGO Ventures, London Venture Partners, Makers Fund, Maximum Games, Marvelous Europe, PlayStack, Playtonic Friends, Team17, TinyBuild, Tripwire Interactive, Twitch, Ultrahorse, Wired Productions, Wales Interactive, Working Capital Management, Wizards of the Coast, Yogscast and many, many more.
Firms attending the digital day only include 101XP, Amplifier Game Invest, Bandai Namco, Blitworks, Boombit, Good Shepherd, Google, Hidden Trap, HoYoVerse, JanduSoft, Kakao Games, Lessmore, Plaion, Ripples Asia Venture, Skystone Games and Tencent.
A digital ticket is also available and includes access to the digital meeting system for Tuesday, September 20th, plus links to watch the talks online. Our physical ticket includes complete access to the entire three days (plus 4-day access to EGX), and lunch.
Companies can also book a permanent meeting table, which they can use across the entire two days of the event to host meetings. All tickets are on sale here.
Interested in sponsoring the event? Contact George Corner.