Capcom tops Metacritic publisher rankings for 2018
Activision Blizzard highest-rated "mid-sized" publisher, followed by Paradox and 505 Games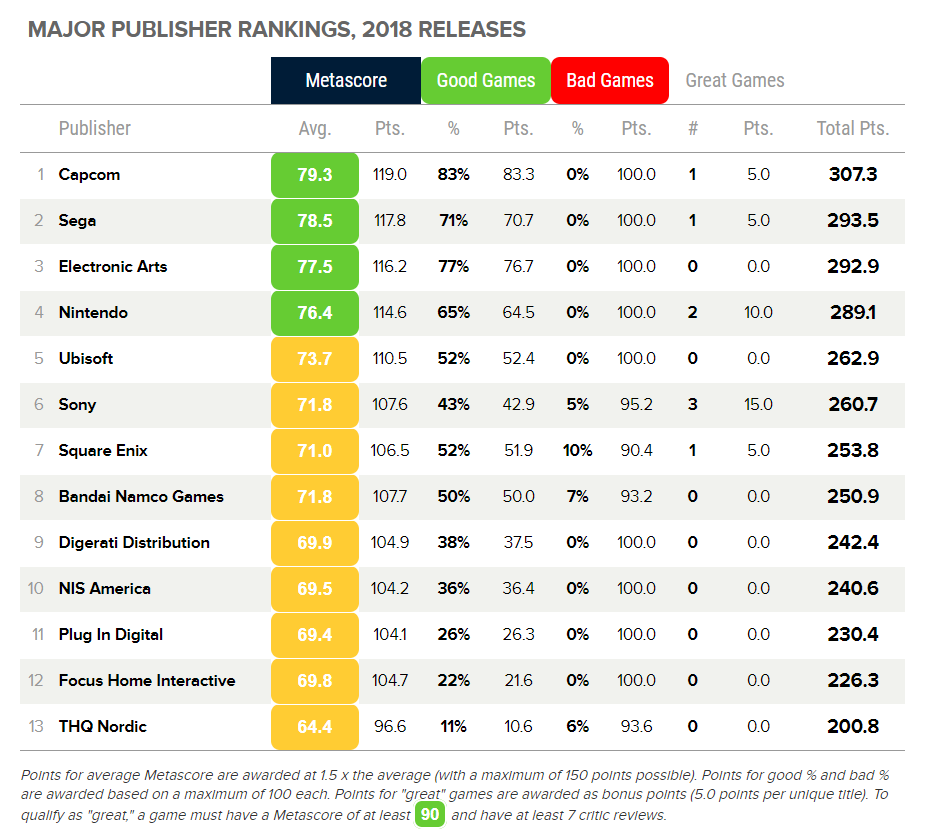 Capcom has been rated the best large publisher in Metacritic's ninth annual rankings, jumping from No. 5 the year prior.
While the Japanese publisher didn't release a single new IP, it benefited from a solid line-up of popular HD remasters along with the success of Monster Hunter: World which is now its best-selling game to date.
As always, companies were ranked by critic scores only, earning points for average Metascore, percentage of releases that earn positive or negative reviews, and the total number of games rated 90 or above.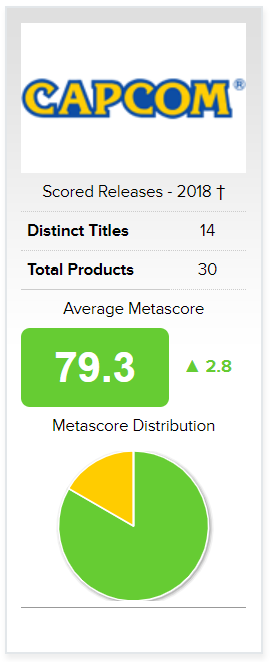 The publishers are also divided into two separate groups that reflect the number of games released in 2018 with large companies being defined as having published 12 or more distinct titles. The "mid-sized" publishers are defined as having released between five and 11. Publishers which released four or less were excluded from the ranking, as were any games released on iOS.
Capcom topped the large publisher list with an average Metascore 79.3 from 14 distinct titles and a total of 30 products.
The publisher's highest-rated game was Monster Hunter: World with a Metascore of 90. It's lowest-rated game was Mega Man X Legacy Collection 2 with a Metascore of 60. Okami HD received the highest user score with 8.7.
Sega edged up a single place last year to No. 2 with an average Metascore of 78.5 from 30 distinct titles (matched only by Nintendo) and 41 overall products.
Sonic Mania was the company's best reviewed product with a Metascore of 91 while Shining Resonance Refrain was its lowest-rated at 67.
Electronic Arts crept onto the list again this year after landing in the mid-sized category the year prior. It secured an average Metascore of 77.5 from 12 distinct titles and total of 30 products.
The publisher's highest-rated game was FIFA 19 with a Metascore of 83, while EA Original title Fe was its lowest-rated game at a fairly respectable 70.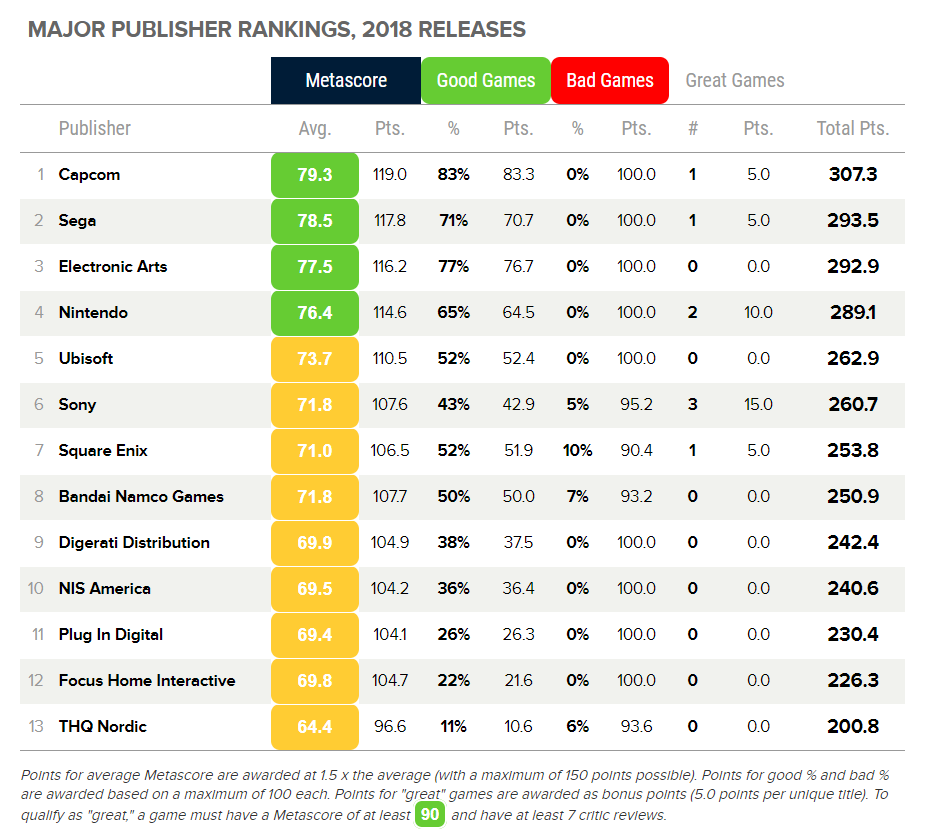 Meanwhile, Activision Blizzard ranked as the highest-rated mid-size publisher with an average Metascore of 77.4 from ten distinct titles.
The publisher appeared at No. 4 in the large publisher segment for 2017, but slipped into the mid-sized table thanks to a more lean release slate
Paradox retained its No. 2 spot from last year, though with a lower overall Metascore. The publisher was rated 75.2 on average from eight distinct titles down from 80.6 the year prior.
Ranked at No. 3 was 505 Games which didn't didn't publish enough titles to qualify the last year. It was was rated at 74.1 on average from five distinct titles.
The full rankings along with further analysis can be found here.