Canadian game dev surging - ESA Canada
Trade group says national games industry growing at six times the pace of the country's economy
The Entertainment Software Association of Canada today released its 2017 Essential Facts, painting a picture of a growing industry across the country. The report, which included data from ESAC-commissioned reports by Nordicity and NPD, found the games industry contributes $3.7 billion annually to Canada's GDP, up 24% from 2015.
The ESAC's figures gave an interesting breakdown of the industry's makeup. There are 596 active studios in Canada (up 21% in the past two years), and 21,700 people directly employed in full-time or full-time equivalent positions (up 6% since 2015).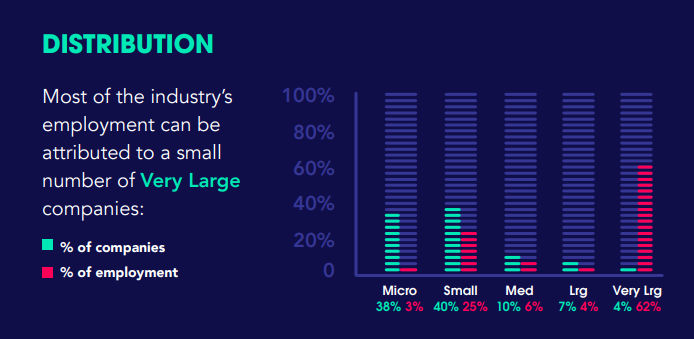 There are only 26 gaming companies in Canada employing 100 or more people, but they account for 62% of employment in the industry. The next most prominent segment would be small studios (5-25 employees), with the country's 241 such operations accounting for 40% of the companies, and 25% of the employment.
As much as the ESAC touted the strength of the Canadian games industry, it also emphasized how dependent the country is on foreign operations. Only 17% of Canadian gaming companies are foreign-owned, but those outfits account for 86% of all employment in the Canadian games industry.
As has been the case for some time, Canadian game development is heavily concentrated in three provinces: Quebec, British Columbia, and Ontario. However, the mix between those three centers of development may be shifting. All of them have seen double-digit boosts in the number of game companies since 2015, but the same can't be said for the number of full-time games industry employees. Quebec now has about 10,000 full-time employees in gaming, down 7% since 2015. Over the same span, British Columbia's headcount has grown 7% to 5,900 full-time employees, while Ontario's has shot up 52% to 3,800.
While the Canadian games industry is bringing in more resources and devoting them to more employees, it actually seems to be using fewer resources for each project. The ESA Canada found that budgets and team sizes were down since 2015 across the board. Even the number of days spent to complete each project was down in most cases, with PC/Mac games being the loan exception to see developers taking more time to ship a game.