Call of Duty tops Red Dead Redemption 2 digital sales in October - Report
Superdata finds Rockstar's latest sold 4 million digitally during launch week, but was topped by Activision's earlier-than-usual shooter series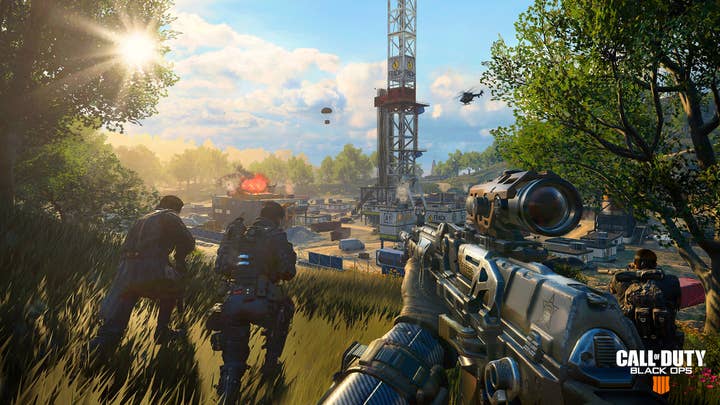 Last month, Nielsen raised eyebrows when it released consumer interest rankings showing greater anticipation for Call of Duty: Black Ops 4 than for Red Dead Redemption 2. Today, Nielsen subsidiary Superdata released its worldwide digital games market report for October, along with results that (partially) support its parent company's findings.
While Superdata estimates Rockstar's first original game this console generation finished the month with 4 million copies sold digitally, Activision's annualized shooter franchise topped it with 4.2 million, setting a new record for most copies sold digitally in a month. However, it is worth noting that Black Ops 4 had two extra weeks on shelves to reach that number, while Red Dead Redemption 2 debuted on October 26. Superdata itself said it expects Red Dead Redemption 2 to set a new record for digital console sales in a quarter this holiday season. The firm also noted that just over two-thirds (67%) of Red Dead Redemption 2 sales came on the PlayStation 4.
It's not all good news for Rockstar, as the success of its latest effort may be coming at the expense of its previous one. Superdata said Grand Theft Auto Online posted double-digit revenue declines in October, both year-over-year and month-over-month, down to the game's lowest point in over two years.
For the month of October, console games worldwide brought in a record $1.53 billion digitally, the firm said. That's up 80% year-over-year thanks to a number of factors. Last October featured neither Red Dead Redemption 2 nor Call of Duty (the franchise traditionally launches in November), and Fortnite had yet to hit its stride.
While the Epic Games shooter was available on consoles last October, it hadn't blown up into a mainstream phenomenon. To give some idea what "blowing up" looks like, last month's Fortnite digital console revenues were 20 times higher than what it brought in during October 2017, according to Superdata. That's particularly good news for Epic Games, as Fortnite was also up month-over-month for October, halting a two-month slide since reaching a peak in July.
Finally, Superdata pointed to some concern for gaming's previous big mainstream shooter success, Overwatch. While the game's microtransaction revenues were up from September, they were down year-over-year for the fifth consecutive month.