Batman makes it five in a row
Lego Batman 2: DC Super Heroes stays top of UK software chart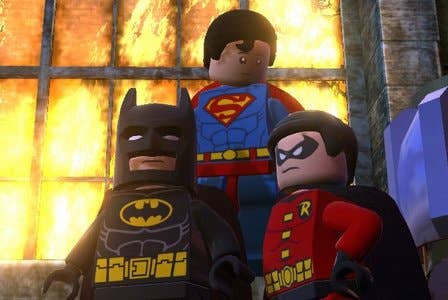 Congratulations are in order for Lego Batman 2: DC Super Heroes, which becomes the first game of the year to manage 5 weeks in the number one spot.
Unsurprisingly given the upcoming events London 2012: The Official Video Game stayed at number 2, while Tom Clancy's Ghost Recon: Future Soldier sneaked back up to 3.
The only new entry was at number 6, Kingdom Hearts 3D: Dream Drop Distance, a Nintendo 3DS exclusive and the second biggest 3DS launch this year after Resident Evil: Revelations.
Further down the chart Saints Row: The Third saw a big jump for 33 to just make it into the charts at 20.
All chart data is courtesy of GfK Chart-Track.
| Last Week | This Week | Title |
| --- | --- | --- |
| 1 | 1 | LEGO Batman 2: DC Super Heroes |
| 2 | 2 | London 2012: The Official Video Game |
| 5 | 3 | Tom Clancy's Ghost Recon: Future Soldier |
| 3 | 4 | The Amazing Spider-Man |
| 6 | 5 | Call Of Duty: Modern Warfare 3 |
| New entry | 6 | Kingdom Hearts 3D: Dream Drop Distance |
| 11 | 7 | Batman: Arkham City |
| 10 | 8 | Mario & Sonic London 2012 Olympic Games |
| 12 | 9 | Max Payne 3 |
| 7 | 10 | The Elder Scrolls V: Skyrim |
| 4 | 11 | Dead Island: GOTY Edition |
| 8 | 12 | FIFA 12 |
| 20 | 13 | Skylanders: Spyro's Adventure |
| 14 | 14 | Sniper Elite V2 |
| 9 | 15 | Spec Ops: The Line |
| 13 | 16 | FIFA Street |
| 15 | 17 | Call Of Duty: Black Ops |
| 17 | 18 | Lego Pirates Of The Caribbean |
| Re-entry | 19 | Tiger Woods PGA Tour 13 |
| Re-entry | 20 | Saints Row: The Third |