Batman: Arkham Origins hits UK no.1
But sells only half of Arkham City's week one total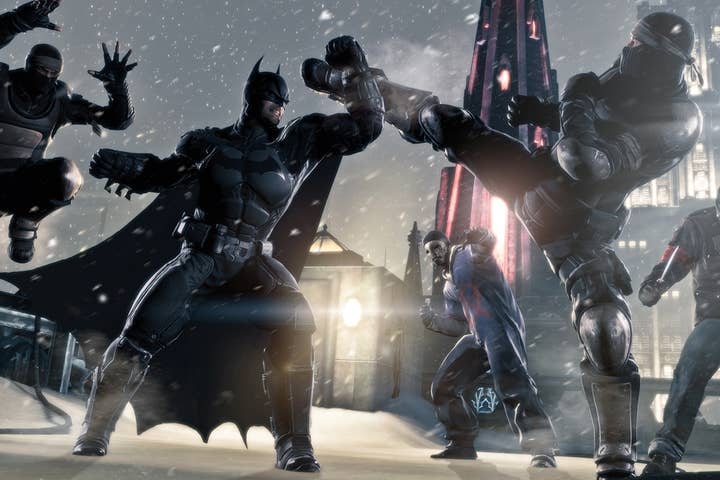 Warner Bros. Games' Batman: Arkham Origins debuted at number 1 in the UK, despite selling only half the amount of its predecessor.
According to data released by Gfk Chart-Track, Arkham Origins sold "almost exactly" the same amount as the first game in the series, Arkham Asylum, which was released in 2009. However, Arkham City remains the series' high-point, selling roughly double the amount achieved by the Asylum and Origins.
It is worth noting that Arkham Origins was not developed by Rocksteady Studios, the UK-based developer that created the franchise.
Other new releases last week included Ubisoft's Rocksmith 2014 Edition, which charted at number 15, and an expansion pack for EA's The Sims 3, which entered the chart at number 18.
Quantic Dream's Beyond: Two Souls continued its slip down the chart, falling 7 places to finish at number 13.
The software chart is below:
| Last Week | This Week | Title |
| --- | --- | --- |
| New entry | 1 | Batman: Arkham Origins |
| 1 | 2 | Grand Theft Auto V |
| 2 | 3 | FIFA 14 |
| 3 | 4 | Skylanders: Swap Force |
| 4 | 5 | Pokemon X |
| 5 | 6 | Pokemon Y |
| 7 | 7 | Minecraft: Xbox 360 Edition |
| 19 | 8 | Lego Lord of the Rings |
| 29 | 9 | Moshi Monsters: Katsuma |
| 9 | 10 | Just Dance 2014 |
| 10 | 11 | Disney Infinity |
| 8 | 12 | F1 2013 |
| 6 | 13 | Beyond: Two Souls |
| 12 | 14 | Lego Batman 2: DC Super Heroes |
| New entry | 15 | Rocksmith 2014 Edition |
| 14 | 16 | Max Payne 3 |
| 21 | 17 | Tom Clancy's Splinter Cell: Blacklist |
| New entry | 18 | The Sims 3: Into The Future |
| 17 | 19 | Animal Crossing: New Leaf |
| 11 | 20 | Sonic: The Lost World |