Ballmer accused of forcing out competitors to protect role
Former Microsoft exec claims original Xbox chief among CEO candidates pushed out of the company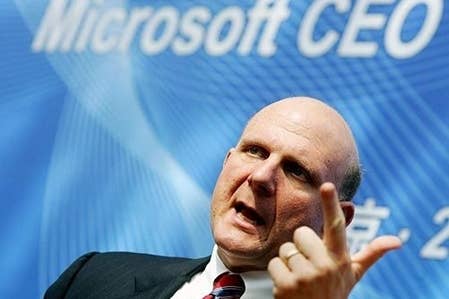 Microsoft CEO Stave Ballmer has been accused of consolidating his position at the company by forcing out rising executives who challenge his authority.
The accusations are from a new book by the former Microsoft executive Joachim Kempin, which suggests that Ballmer's resignation could be the key for the company to, "really get back in the game seriously."
Kempin worked for Microsoft from 1983 to 2002, during which time he led the sale of Windows software to computer manufacturers. In an interview with Reuters, Kempin offered the example of Richard Belluzzo, a former Hewlett-Packard exec who rose to the position of COO and was instrumental in launching the first Xbox.
"He [Belluzzo] had no room to breathe on the top," Kempin said. "When you work that directly with Ballmer and Ballmer believes 'maybe this guy could someday take over from me', my God, you will have less air to breathe - that's what it comes down to."
Belluzzo left Microsoft in 2002 after just 14 months as COO, and Kempin has suggested that the departures of other key executives like Stephen Elop, Nokia Oyj and Ray Ozzie are evidence of the same trend. As a result, Ballmer's tenure as CEO, which started in 2000, has been defined by missed opportunities in a number of key growth areas for the company's competitors - many of which were in development during his time with Microsoft.
"They missed all the opportunities they were talking about when I was still in the company - tablets, phones," Kempin said. "We had a tablet going, we had tablet software when Windows XP came out, it was never followed up properly.
"They [Microsoft] need somebody maybe 35-40 years old, a younger person who understands the Facebook Inc generation and this mobile community. They don't need this guy on stage with this fierce, aggressive look, announcing the next version of Windows and thinking he can score with that."
Kempin is not the only dissenting voice around Ballmer's abilities as CEO. In May last year, Forbes magazine named him the, "the worst CEO of a large publicly traded American company today." In August, he was accused of mismanagement by a number of former Microsoft employees in an investigative article published in Vanity Fair called "Microsoft's Lost Decade".