Assassin's Creed slays chart rivals
Console and Vita releases debut on UK software chart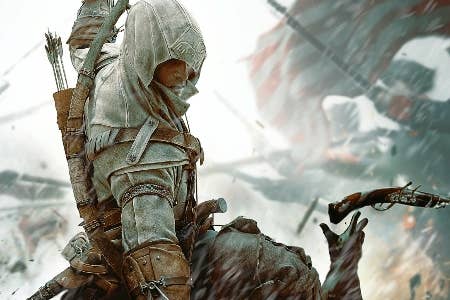 What a week to be an assassin. Not only has Ubisoft's Assassin Creed III taken the number one spot and officially become the publisher's biggest launch title ever, but even PlayStation Vita exclusive Assassin's Creed III Liberation has entered at 14.
Assassin's Creed III outsold last year's Assassin's Creed: Revelations by 117,000 units, with 59 per cent of sales on Xbox 360 and 41 per cent on PlayStation 3. It's the second biggest launch of the year on the UK software charts, just behind FIFA 13. Assassin's Creed III Liberation is Vita's third largest launch.
And the excitement wasn't just confined to stabbier franchises, it was all change in the top ten too. WWE'13 debuted on the chart at 3, closely followed by Football Manager 2013 at 4 and Need For Speed Most Wanted at 5. Last week's top game Medal Of Honor: Warfighter was pushed all the way back to 6.
Ukie Games Charts provided courtesy of GfK Chart-Track.
| Last Week | This Week | Title |
| --- | --- | --- |
| New entry | 1 | Assassin's Creed III |
| 2 | 2 | FIFA 13 |
| New entry | 3 | WWE'13 |
| New entry | 4 | Football Manager 2013 |
| New entry | 5 | Need For Speed Most Wanted |
| 1 | 6 | Medal Of Honor: Warfighter |
| 3 | 7 | Forza Horizon |
| 4 | 8 | Skylanders Giants |
| 6 | 9 | Just Dance 4 |
| 5 | 10 | Dishonored |
| 7 | 11 | Professor Layton And The Miracle Mask |
| 8 | 12 | Moshi Monsters: Moshlings Theme Park |
| 10 | 13 | Resident Evil 6 |
| New entry | 14 | Assassin's Creed III Liberation |
| 12 | 15 | Pokemon Black Version 2 |
| 13 | 16 | The Elder Scrolls V: Skyrim |
| 15 | 17 | F1 2012 |
| 9 | 18 | Doom 3: BFG Edition |
| 11 | 19 | Borderlands 2 |
| 19 | 20 | LEGO Batman 2: DC Superheroes |