Apptopia December report: No gods, no kings, only revenue
A lack of massive new releases allows for a more even revenue spread at the top as popular publishers debut more titles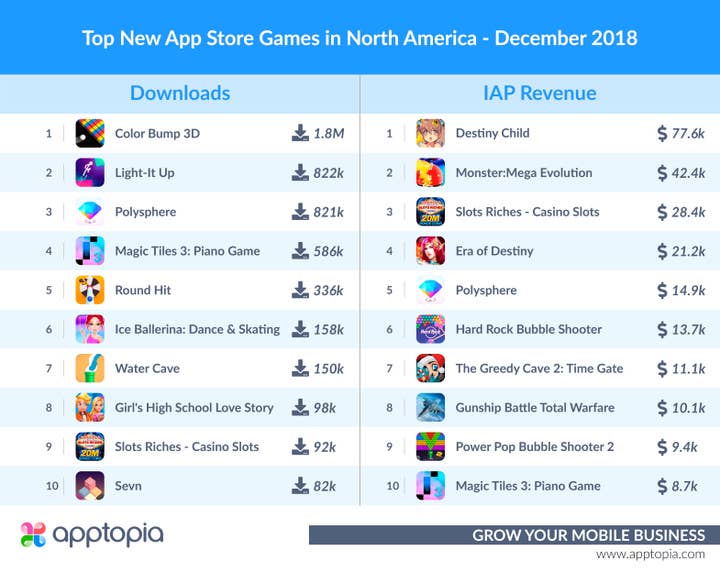 A strong holiday for new releases on iOS and Google Play saw a more even spread of revenue and download numbers across the top ten new titles in the US and Europe compared to November, according to market intelligence firm Apptopia.
That may be in part because December was devoid of a revenue-generating giant like last month's Football Manager 2019 Mobile.
New iOS releases in North America saw a much stronger month than in November, with RPG Destiny Child topping the IAP revenue chart at $77.6k in revenue and the tenth spot, Magic Tiles 3: Piano Game bringing in more than any game in the bottom half of November's top 10. The top download, Color Bump 3D, didn't quite reach the heights of last month's Swing Star, but downloads across the top ten were higher overall with more games over 100k downloads.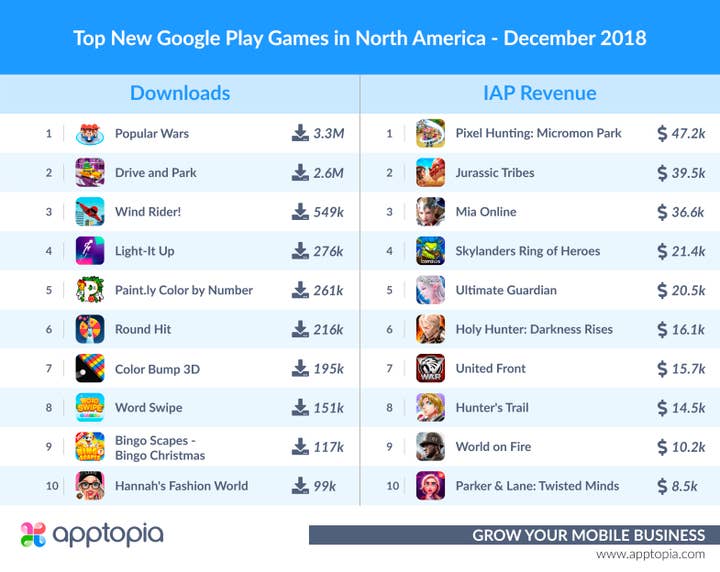 Google Play in NA didn't have nearly as strong a month as iOS did, with its top grossing new title Pixel Hunting: Micromon Park only bringing in $47.2k in revenue compared to November's top new title, FR Legends, which brought in $92k.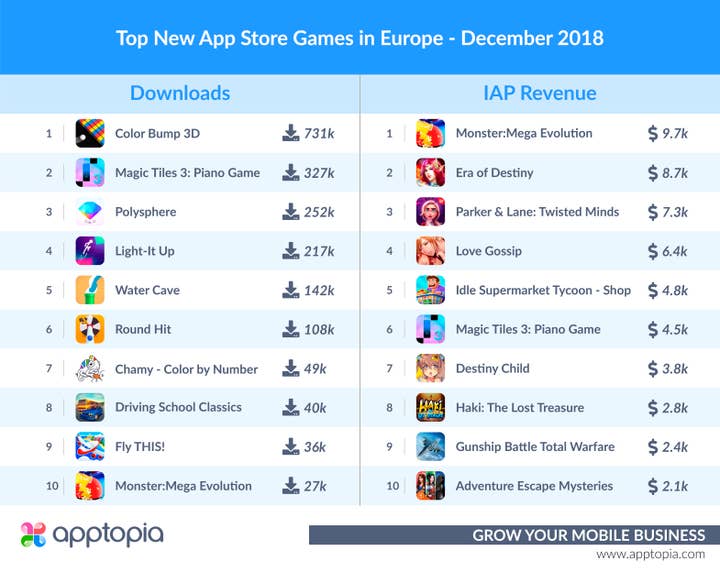 In Europe, Color Bump 3D also topped the iOS downloads for new titles with 731k downloads. Monster:Mega Evolution won out for revenue at $9.7k, with North America's top new title in revenue, Destiny Child, coming in at #7 at $3.8k.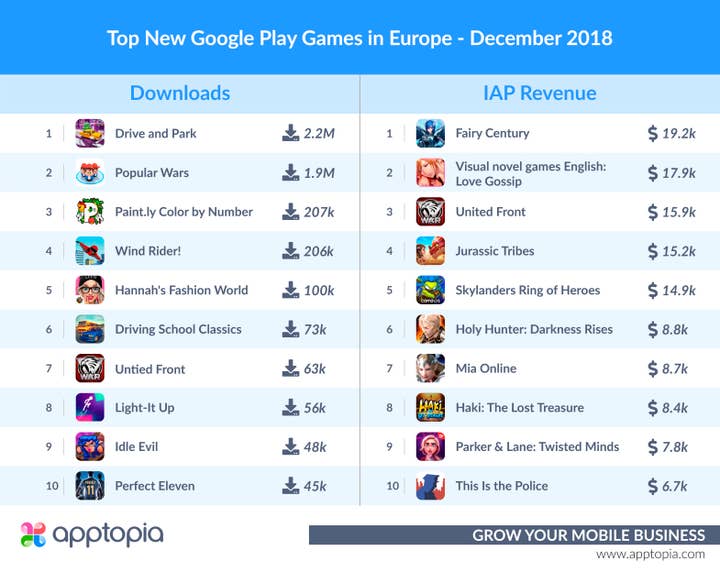 On Google Play in Europe, Drive and Park secured more downloads that last month's top new game, Fire Balls 3D. There is also a noticeable drop in downloads from the two most-downloaded new titles in the top 10 (Drive and Park and Popular Wars) and the remainder of the list.
But in terms of revenue, nothing could touch last month's king. Top new title Fairy Century, with $19.2k, couldn't come close to Football Manager's $240k - which is more than all the titles in the Google Play top ten for Europe combined brought in this month. More data over the next several months will give a better picture of just how dramatic a phenomenon November was.
Worldwide, puzzle and arcade games took the lead over music titles on Google Play with 10.6% and 10.17% of new releases, respectively. On iOS, arcade edged over puzzle with 13.29% of new releases to puzzle's 12.72%. Music games remain far more popular launches on Google Play at 9.86% of new releases, but not even making it into the top ten on iOS.
"The hyper-casual market seems accessible at first glance, but if smaller developers are not seeing the success they imagined," Adam Blacker, VP of mobile research at Apptopia told GamesIndustry.biz. "Part of the hyper-casual game strategy is releasing more games than most other categories do. We already know the top ranks are dominated by stalwart players in mobile games, but as the hyper-casual genre gets perfected, different top publishers are starting to dominate the new games market as well. Looking across our charts for December, we see a lot of well-known publishers like Voodoo, Ketchapp, Playgendary, Good Job Games and more."