Apple pulls games with Confederate flag imagery
Civil War games removed from App Store [UPDATE: Apple reinstating some games with the flag]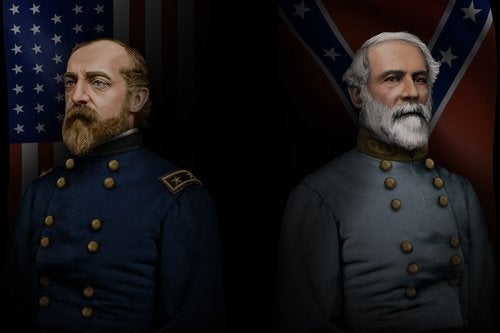 Update: A day after the news broke, Apple has now clarified its intent regarding the Confederate flag and the company is looking to reinstate some titles on the App Store that are utilizing Confederate imagery.
"We have removed apps from the App Store that use the Confederate flag in offensive or mean-spirited ways, which is in violation of our guidelines. We are not removing apps that display the Confederate flag for educational or historical uses," a spokesperson clarified.
Accorindg to TechCrunch, Apple is working with some developers to quickly reinstate some of the games that should not have been pulled from the store. The company did not clearly state, however, if Civil War games (which could be considered educational for historical accuracy) would be reinstated, as many had been pulled yesterday.
Original story:
Apple has pulled games featuring a Confederate battle flag from the App Store. Game-Labs, developer of Ultimate General: Gettysburg, addressed the removal of its game from the App Store in a blog post today.
"We accept Apple's decision and understand that this is a sensitive issue for the American Nation," the company said. "We wanted our game to be the most accurate, historical, playable reference of the Battle of Gettysburg. All historical commanders, unit composition and weaponry, key geographical locations to the smallest streams or farms are recreated in our game's battlefield."
It continued, "Spielberg's 'Schindler's List' did not try to amend his movie to look more comfortable. The historical 'Gettysburg' movie (1993) is still on iTunes. We believe that all historical art forms: books, movies, or games such as ours, help to learn and understand history, depicting events as they were. True stories are more important to us than money. Therefore we are not going to amend the game's content and Ultimate General: Gettysburg will no longer be available on AppStore. We really hope that Apple's decision will achieve the desired results. We can't change history, but we can change the future."
Ultimate General: Gettysburg remains available for PC on Steam and GOG.com.
As reported by Touch Arcade, Ultimate General is not the only game to be pulled from the App Store for this. Historical strategy game developer HexWar Games told the site its own games like Civil War: 1863 were removed, although it plans to substitute in a lesser-known Confederate flag and re-submit its games to Apple.
Last week, a 21-year-old white man walked into a South Carolina church known for its role in the Civil Rights Movement and killed nine black people while spouting racist epithets. A Confederate flag flying on the grounds of the state Capitol has become a hot-button topic in the week since, as the flag--once flown by soldiers fighting to preserve the institution of black slavery--has not been removed or lowered to half-mast.
Outcry over the flag has caused it to be pulled down at the Alabama Capitol and nixed from state license plates in Virginia, while retailers like Amazon, eBay, Walmart, and Sears have said they will stop selling the flags. Warner Bros. has also said it will no longer license toys or model kits based on the Dukes of Hazard TV show that bear the flag on the cover of the series' iconic orange car, the General Lee.