Apple planning iPad Mini for October - report
The rumored 7.85-inch tablet could retail for $299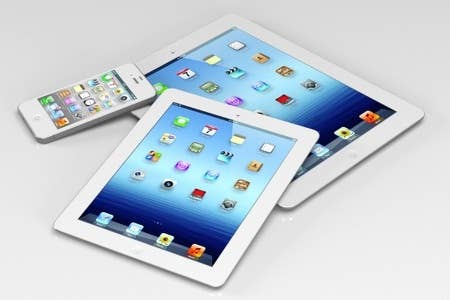 Pacific Crest analyst Andy Hargeaves expects Apple to introduce a new 7.85-inch model of the iPad in October. This model would come in alongside a slight refresh of the new iPad and compete with Amazon's Kindle fire and Google's Nexus 7.
"Based on our supply checks, we expect Apple to launch a 7.85" iPad in October. We anticipate an entry-level 7.85" iPad with 8GB of NAND capacity to price at $299 with an initial gross margin of 31%. We estimate Apple will sell 10.0 million 7.85" iPads in FQ1 (Dec.) and 35.2 million in all of F2013. We anticipate 25% cannibalization of the larger 9.7" iPad (for every four 7.85" iPads added, we reduced our 9.7" iPad estimate by one), so our total F2013 iPad estimate increases to 91.6 million from 65.2 million," wrote Hargeaves in his report.
"We expect at least three significant small-form-factor tablets from tech behemoths to be in the market this holiday season: Apple's 7.85" iPad, Google's Nexus 7, and a redesigned Amazon Kindle Fire. This will drive significant marketing spending to the lower end of the market, which, along with the attractive prices, could drive greater cannibalization of larger tablets than we currently expect."
No one has been able to dent Apple's control of the tablet market at the 10-inch size, and an iPad Mini could lock up the 7-inch size as well. Google's Nexus 7 is expected mid-July, so the company will have several months to get as many into consumers' hands as possible before Apple's offering launches. Amazon's Kindle Fire upgrade is rumored, but largely remains a question mark at this time.
[Image by Ciccarese Design, via Cult of Mac]