Android Market hits 10 billion app downloads
5.5bn shifted since May, current growth of 1bn per month
Google's Android Market has had over 10 billion apps downloaded from it, with 5.5 billion downloaded since May this year. Currently over a billion apps are downloaded there every month.
The Android system had a relatively slow start in late 2008, taking until July 2010 to shift its first billion apps. A total of 6 billion was reached in July, 2011, with 4 billion more being sold since.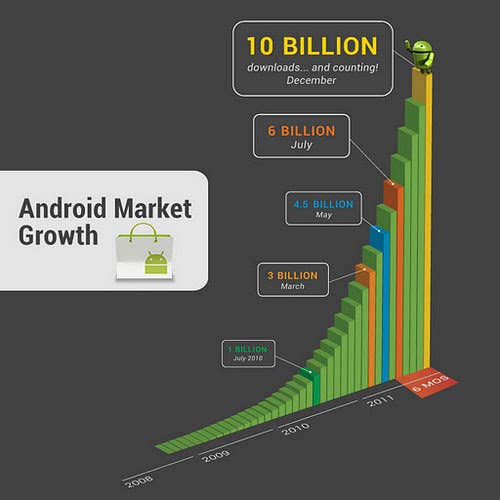 By way of celebration, a number of top selling apps have been made available for just 10 cents each: Asphalt 6 HD, Color & Draw for Kids, Endomondo Sports Tracker Pro, Fieldrunners HD, Great Little War Game, Minecraft, Paper Camera, Sketchbook Mobile, Soundhound Infinity and SwiftKey X.
"Of course, none of these apps would have existed if it weren't for the developers who created them," read a post on the Google blog.
"Every day, these developers continue to push the limits on what's possible and delight us in the process. For that, we thank them."