Android games get in-app subscriptions on Google Play
Google's marketplace allows alternate in-app payment solutions for developers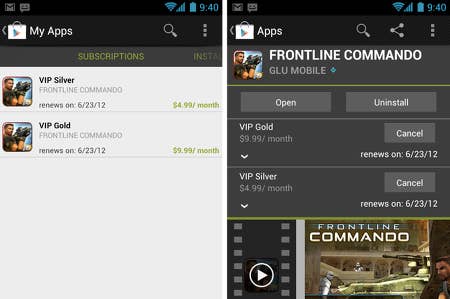 In a post on the Google Android Developers blog, Google Play product manager Ibrahim Elbouchikhi announced the addition of in-app subscriptions for games.
"Starting today, developers can use In-app Billing to sell monthly or annual subscriptions from inside of their apps. All subscriptions are auto-renewing, for every app and game and every type of subscription product. Developers just set the price and billing interval and Google Play manages the purchase transactions for them, just as it does for other in-app products and app purchases," he wrote.
Players can manage their app subscriptions in the Play Store app, if they're using Google Play version 3.5 or higher. Google has also launched a publisher API allowing developers to validate or cancel subscriptions, meaning they could move user subs to a different platform if need be.
"To make this easier, we're introducing an HTTP-based publisher API through which enterprise-scale backend servers can validate or cancel subscriptions. Using this API, for example, developers can extend access from their Android apps to their web properties, based on subscriptions that are purchased on Google Play," Elbouchikhi said.
Glu Mobile is the first company to use the new in-app subscription model. It will be relaunching Frontline Commando and other titles using the new model.