ADL criticizes Fortnite, Call of Duty for lax stance on Holocaust denial
Group's report card of game and social media companies finds lack of policies, slow responses, and no action taken on user reports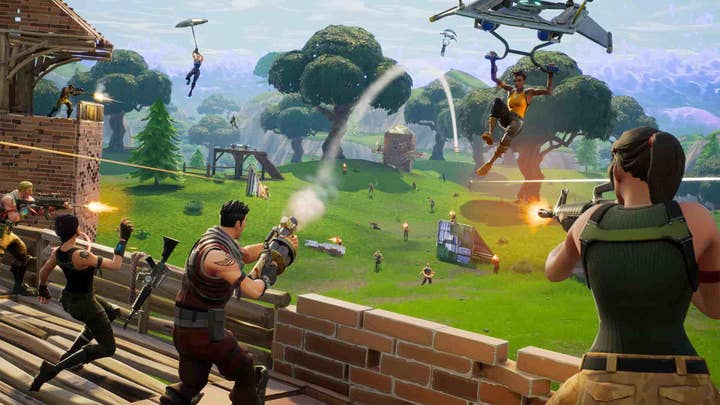 The ADL has released its 2023 Holocaust Denial Report Card, and while none of the social media platforms or gaming companies it assessed did an exemplary job of preventing and responding to users denying Nazi Germany's systemic murder of millions of people, some did notably worse than others.
Epic Games was the only company to receive a grade of F, as Fortnite lacked an explicit policy around Holocaust denial, took more than 24 hours to respond when incidents were reported to it, and failed to take action on reports made by average users.
The ADL also noted that it had "trusted partner" status with many of the companies it looked at so that content (from user names to social media posts) it reported would be prioritized in the moderation process. Epic was the only company not to take action on Holocaust denial content that had been flagged by the ADL.
Epic was the only company not to take action on Holocaust denial content that had been flagged by the ADL
The ADL reported that eight of the 10 companies it looked at did not take action on Holocaust denial complaints when they were made through average user accounts.
Beyond Epic, the ADL also included Activision Blizzard/Call of Duty and Riot Games/League of Legends in its report card.
Activision Blizzard tied with Twitter for the second-lowest grade, getting a D- for having a general policy about hate (as every platform and game the ADL looked at has), and for taking action when complaints were made through the ADL's trusted partner relationship.
Riot received a C- score boosted by its timely response to complaints made by average users, and the fact that it not only took action on such complaints but provided notification of the policy reason for enforcement.
Streaming platform Twitch tied with YouTube for the best grade in the group with a C+. However, that was still down from the B it scored in the ADL's 2021 report card.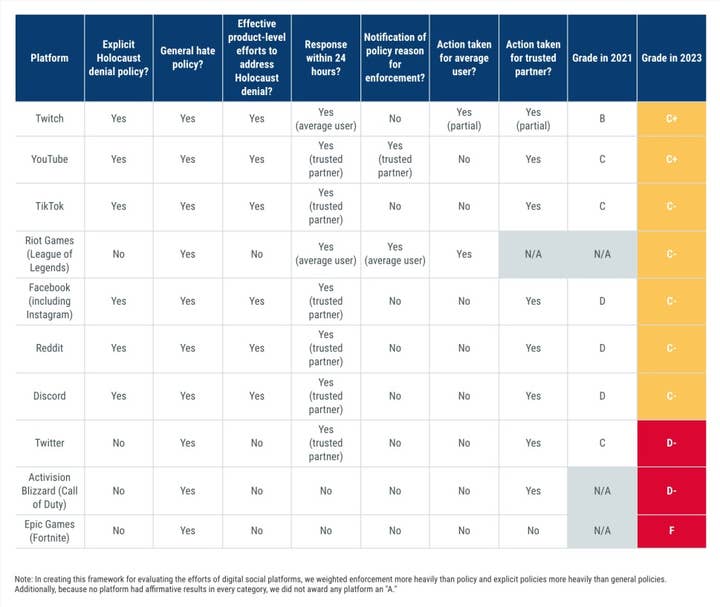 The ADL encouraged all social media and gaming platform owners to explicitly ban Holocaust denial on a policy level, and to enforce such policies quickly, consistently, and at scale.
It further recommended they make reporting easy, have experts review their content moderation training materials, increase transparency around moderation policies and decisions by releasing regular reports, and prioritize user safety over engagement.
"Tech companies claim to be addressing hate on their platforms. But when it comes to Holocaust denial, they aren't," said ADL CEO Jonathan A. Greenblatt.
"The consequence is that Holocaust deniers take advantage of this lax enforcement to spread their noxious antisemitic ideas and garner support for their hateful views."
Sign up for the GI Daily here to get the biggest news straight to your inbox