ACTA denied by European Parliament
Controversial treaty defeated in landslide vote, could be revived by the European Commission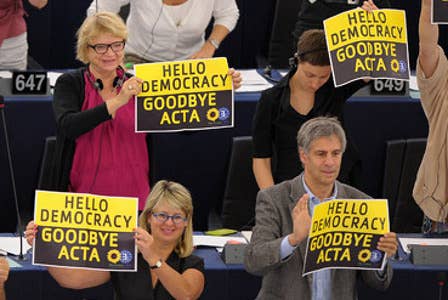 The ACTA anti-piracy agreement has been resoundingly defeated in the European Parliament.
In total, 478 MEPs voted against the bill, 39 voted in favour, and 165 abstained. It is the first time the European Parliament has rejected an international trade agreement, in accordance with the Lisbon Treaty.
The decision is representative of the EU and its member states: the US, Australia, Canada, Japan, Mexico, Morocco, New Zealand, Singapore, South Korea and Switzerland.
The parliament noted an "unprecedented" level of direct lobbying from EU citizens in the form of phone calls, e-mails and street demonstrations. It also received an online petition signed by 2.8 million people calling for ACTA to be rejected.
"I am very pleased that Parliament has followed my recommendation to reject ACTA" said rapporteur David Martin MEP after the vote.
Martin claimed that the result confirmed his belief that the agreement is open to misinterpretation and a threat to citizens' liberties, though he also endorsed finding new ways to protect intellectual property.
A spokesman for the European Commission voiced the possibility that ACTA could be revived if it obtained a court ruling that it does not violate fundamental EU rights.