AAA games shifting to free-to-play, says Happy Wars dev
Toylogic studio head says breaking Xbox Live's free-to-play barrier was just the beginning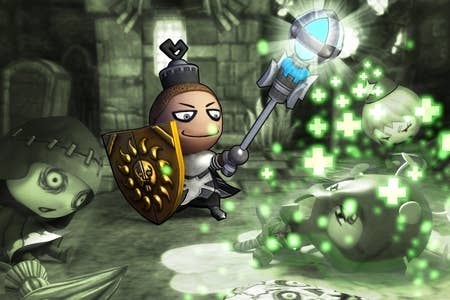 On Friday, Japanese developer Toylogic will launch Happy Wars, the first free-to-play game on Xbox Live. And according to Toylogic president Yoichi Take, it's just the latest example of the booming business model expanding into new territory.
"I believe it is quite natural that people will gather to play games for free," Take told GamesIndustry International. "I predict that, moving forward, even triple-A titles will be shifting toward Play-for-Free. However, there are game designs that can only be realized as package titles, so I feel that package games and the Play-for-Free model will coexist, and indeed I welcome their coexistence."
That shift might not happen overnight, as even getting Happy Wars onto Xbox Live was a years-long process, according to Take, who also directed the game. Toylogic had come up with the concept for its casual large-scale online action game about five years ago, and pitched it to Microsoft with a prototype at E3 2009. Take called it "a meeting of the minds," with both companies envisioning Happy Wars as a free-to-play project from the outset.
The significance of introducing the business model to the Xbox Live environment is not lost on the developer.
"Because this will be [an] early Play-for-Free title, I do feel a sense of responsibility for helping to develop Xbox Live moving forward," Take said. "At the same time, I also recognize this as a great opportunity."
However, Take acknowledged obstacles that must be overcome to seize that opportunity. To start with, he noted that the Xbox Live Marketplace requires players to clear two hurdles before payment, first spending money to buy Microsoft Points, and then spending those on the in-game currency. Take declined to answer when asked how the requirement of a paid Xbox Live Gold membership will impact the game's free-to-play model.
As for Happy Wars' future, Take said he would definitely like to launch the game on other platforms "if Microsoft permits." While that might preclude a Wii U or PlayStation 3 version, Take suggested the odds of a PC edition are "quite high."