4mm Games: From Startup to Shutdown
Jamie King reflects on where the Def Jam Rapstar business went wrong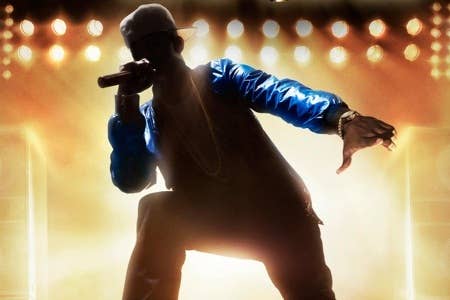 Jamie King answers the phone and gets straight to the point. "We're rather starved for money," he says of Def Jam Rapstar creator 4mm Games. "It's a shame because it's the only thing worth talking about, trust me."
This is refreshing. This is a games exec who isn't bothering with the media training, mainly because there's no reason to. The polite way of putting it is that 4mm Games is "on hold" while a few issues are resolved. But when we say 'issues' we're talking about substantial problems. One, there's a complicated legal wrangle between 4mm, Terminal Reality and EMI. EMI wants at least $8 million for what it claims is unlicensed music in Def Jam Rapstar, but this doesn't sound even remotely possible when you consider issue number two: 4mm Games doesn't have any money.
"We have not got any new funding and obviously we need to resolve everything with Rapstar. And we've also got to eat"

Jamie King, 4mm Games
"We have not got any new funding and obviously we need to resolve everything with Rapstar. And we've also got to eat," adds King. "I get very annoyed at times, I would like there to be a way out of it but I don't know if that's going to happen."
Rewind to July 2010 and the sounds of Def Jam Rapstar were booming across the show floor at E3, artists like Method Man and Redman were hanging out backstage and Jamie King was buzzing with the excitement of showing off his new game. It was a music game at a time when the genre was in decline after the dizzy days of Guitar Hero, but King hoped to breathe new life into music gaming with extensive online features that catered to a hiphop crowd previously ignored by the games business. With the help of Def Jam, the most credible and long-serving label in hiphop, this ambitious project might just work if it could manage to maintain the momentum and excitement that was building.
Previously with Rockstar Games, Jamie King formed 4mm Games with Gary Foreman and Def Jam's Paul Coyne in 2009 with funding from Autumn Games. The Rapstar project didn't start out so ambitiously, but it scaled quickly from a simple Wii project to a multi-format monster, complete with talent show ambitions and an around the clock online service.
"Considering it started as only a very small, few million dollar Wii thing, it grew and grew," reveals King. "I was very proud with the company that we put together at 4mm. There was a beautiful time where everyone was totally in sync and working really hard. We were boot-strapping other games and had a very clear path ahead of us."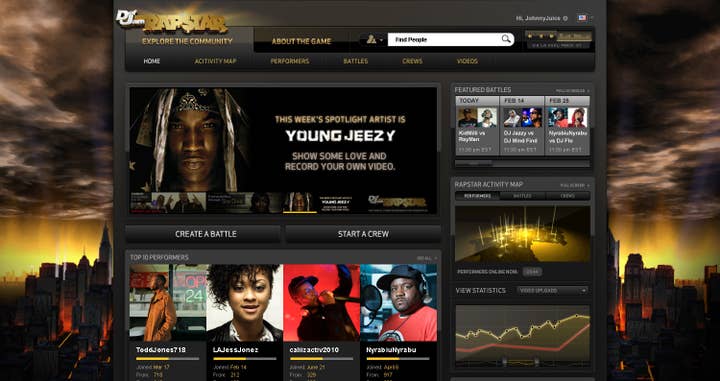 The project eventually ran away with itself, with too many ideas put forward before the game was even released. Users would be able to film themselves performing and upload to a dedicated website, which would then allow peers to rate their work and also go head-to-head with other rappers in battle.
"Out of all the music games it was really important that hiphop had its own dedicated game," says King. "We had really big ambitions with that website and it was probably a bit ahead of its time. It was a bit nuts how we wanted all the tie-ins with the bands and rivals and the amount of information our database had to collect everyday, that was challenging in terms of performance. Everyone was getting carried away by turning it into a reality TV show in terms of discovering talent."
"We couldn't make any of our own peripherals, which was frustrating. We weren't allowed by Microsoft and Sony"

Jamie King, 4mm Games
The release technology for the game was relatively simple, but it was also a compromise on the original vision. "We tried very hard to get technology in there that would drop out someone's living room background without having to have a bundled green screen. We looked at a few different technologies but none of them were quite there."
"We couldn't make any of our own peripherals, which was frustrating, and we had to rely on existing peripherals. We weren't allowed by Microsoft and Sony," claims King before stating: "Okay, so we were insane for trying to do that but I was surprised at the barriers that we encountered."
There were other problems to deal with, the everyday issues that crop up in various forms during a game's development. "We didn't get accepted into the Kinect launch window. We met everyone and it took a long time to get a publisher of note. And that meant we couldn't get product code. That meant we couldn't test the servers so we had months of delays there. And when we did a deal with Konami we needed multiple SKUs and we weren't given as much time on the Wii as we warned them we needed and it showed."
"Coming out there and launching a new IP, it was delayed, it should have been out sooner," recalls King. "We had issues with publishing, it took at long time and we were thrilled when we got Konami. And in the year of release everyone's saying 'the music genre is dead'. I wish we'd either pushed the game back and made it for Kinect or it had come out a year earlier."
By the time the game was ready for market in the autumn of 2010, the company had already spent a lot of money on the game and creating a marketing buzz. It launched to average reviews but failed to make any significant splash, especially during such a crucial sales period.
"Halfway through the project we had to put a marketing services company together to market the game, we had to put a lot of infrastructure together and we'd burnt a lot of cash flow," King adds. "Overall we did very well and we were proud of what we did but for me the launch was disappointing. In terms of how it was executed through the channels and in terms of awareness."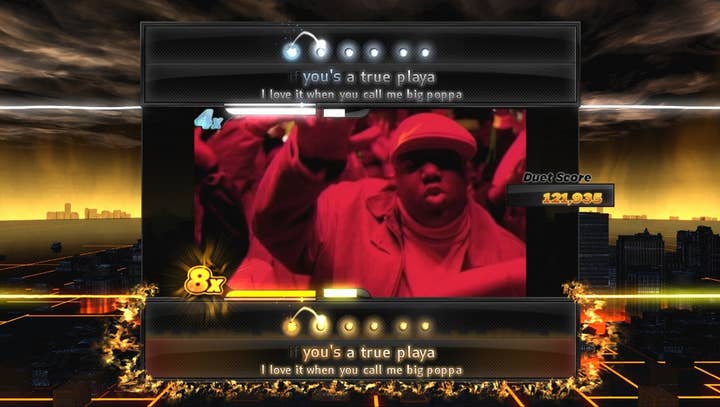 Some of the attention to detail in the game was impressive - localised music for French and German markets on launch day, for example, but the promised regular flow of DLC failed to materialise and the game remained ignored. Less than a year later the community site was shut down with no explanation.
"We didn't get to achieve the grand plan," sighs King. "We had very high hopes for it, but it needed deeper pockets and a 5 to 10 year vision. Karaoke music games have a long tail but we didn't have any control over it when it was published and we couldn't do anything about support on the website.
"It broke my heart when it just got turned off. It didn't get the love, there were no community managers, the videos were taking a long time to get rated. It's business, I get it, we were very ambitious with the amount of funds that we had."
"The [Alliance of Action Sports] didn't get a game and I'm sure they're pissed, I'm pissed because it's sitting on a shelf almost done"

Jamie King, 4mm Games
Rapstar wasn't 4mm Games' only project. The company was "experimenting" on a project with UK developer Jagex and it had also signed a deal with the Alliance of Action Sports for a browser games that has since been shelved. "They didn't get a game and I'm sure they're pissed, I'm pissed because it's sitting on a shelf almost done, running on Facebook, running as a stand alone destination game," says King. The only other project was a Facebook game for The National Dog Show but again 4mm had no money for marketing once it was released.
Now 4mm Games is in limbo. It can't attract any more funding until it resolves the legal problems with EMI. King is optimistic and expects "it will all get resolved" eventually but that's likely to be a long-winded process. In the meantime the 4mm Games team "are off working elsewhere".
King is currently working with marketing agency SA Studios Global and he hopes to work on more game projects in the mobile and tablet space with some of SA Global's clients. The enthusiasm's still there, but King's well aware that the markets have changed significantly. Before 4mm Games was officially formed it was working on a first-person shooter using the Unity engine - how different the story might be had it stuck with the original plan.
"We started a thing called Cement Factory and we got through pre-production with Autumn Games but at that time there was no money because the market collapsed. And that's when they said if you do a console game we can get you money. In 2006/07 we were all about Unity, we had it running on Unity. Ironically [Autumn] said if you can do a console game we can raise a lot more money and that's when Def Jam Rapstar came about."
So now he's looking at tablets, mobile phones and digital formats after years of distraction in a shrinking console market. 4mm Games' tale is a cautionary one, a reflection of the old publishing and development model that barely works for established businesses, let alone start-ups. But unlike developers that have given up on the games business, King fully intends to return despite getting his fingers burnt. That's business, after all. And he still looks back on the Def Jam Rapstar project as a personal triumph if not a business success.
"I will forever be dead proud that I got to make a hiphop music game with Def Jam and make a complete knob of myself in front of people like Kanye West," says King.
"I can't rap, it was terrifying."
Jamie King will be at Nordic Game (Malmo, May 23-25) next week, taking part in a fireside chat with Jason Della Rocca, discussing his 15+ years in game development.