3DS XL and New Super Mario Bros. 2 storm the Japanses charts
XL nears 200,000 units, New Super Mario Bros. 2 smashes 400,000 units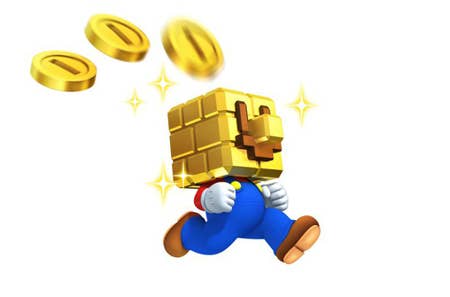 New Super Mario Bros. 2 dominated a week in which 11 new releases entered the Japanese top 20, while the 3DS XL was warmly received in its debut week.
According to a report on Andriasang, based on an article from Famitsu, Nintendo's latest 3DS hit sold more than 430,000 units in the week ending July 29. Persona 4 was the highest new entry for a Sony platform, charting at number 2 with 117,000 units sold.
Ubisoft's Just Dance 3 continued the Wii software resurgence started by Kirby 20th Anniversary Special two weeks ago, selling more than 60,000 units to enter the chart in 4th place.
The release of the the 3DS XL caused a huge spike in 3DS sales: the XL sold 193,000 of the platform's 235,000 unit total for the week, versus the previous week's total of 44,000. The PlayStation 3 and PSP saw marginal gains, but the PlayStation Vita lost just over 1000 sales.
The full hardware chart is below, previous week's sales are in parentheses:
Nintendo 3DS: 235,974 (44,202)
PlayStation 3: 18,160 (16,232)
PlayStation Portable: 14,029 (13,199)
PlayStation Vita: 9,081 (10,103)
Wii: 10,549 (8,729)
Xbox 360: 632 (594)
Nintendo DSi: 496 (545)
PlayStation 2: 439 (414)
The full software chart is below, life-to-date sales are in parentheses:
[3DS] 01. New Super Mario Bros. 2 (Nintendo, 07.28.2012): 430,185 (NEW)
[PS3] 02. Persona 4 Arena (Atlus, 07.26.2012): 117,318 (NEW)
[PSP] 03. Nayuta no Kiseki (Falcom, 07.26.2012): 83,836 (NEW)
[WII] 04. Just Dance Wii 2 (Nintendo, 07.26.2012): 61,382 (NEW)
[NDS] 05. Pokemon Black & White 2 (Pokemon, 06.23.2012): 61,116 (2,474,123)
[PSP] 06. Super Danganronpa 2 (Spike Chunsoft, 07.26.2012): 59,112 (NEW)
[3DS] 07. Demon Training (Nintendo, 07.28.2012): 46,528 (NEW)
[WII] 08. Kirby 20th Anniversary Special Collection (Nintendo, 07.19.2012): 31,324 (131,720)
[PSP] 09. Digimon World Redigitize (Namco Bandai, 07.19.2012): 29,877 (103,345)
[3DS] 10. Kobito Zukan Kobito Kansatsu Set (Columbia, 07.26.2012): 26,146 (NEW)
[PS3] 11. Jikkyou Powerful Pro Baseball 2012 (Konami, 07.19.2012): 24,163 (NEW)
[PS3] 12. Macross Do You Remember Love Hybrid Pack (Namco Bandai, 07.26.2012): 22,479 (NEW)
[3DS] 13. Taiko Drum Master Chibi Dragon and the Mysterious Orb (Bamco Nandai, 07.12.2012): 21,594 (116,867)
[3DS] 14. Rune Factory 4 (MAQL, 07.19.2012): 18,813 (107,513)
[PSP] 15. Jikkyou Powerful Pro Baseball 2012 (Konami, 07.19.2012): 13,144 (39,609)
[PSP] 16. Sangoku Rensenki Otome no Heihou (Prototype, 07.26.2012): 10,738 (NEW)
[3DS] 17. Dragon Quest Monsters Terry's Wonderland 3D: (Square Enix, 05.31.2012) 10,230 (848,817)
[3DS] 18. Little Battler eXperience Baku Boost (Level-5, 07.05.2012): 10,082 (96,196)
[PSP] 19. Warriors Orochi 2 Special (Tecmo Koei, 07.19.2012): 9,521 (34,039)
[360] 20. Persona 4 Arena (Atlus, 07.26.2012): 9,346 (NEW)