3DS launches across the UK
Consumers eager for new console despite high price and lack of classic Nintendo franchises
It may have a high price and lack classic Nintendo franchises at launch, but that didn't stop the crowds queuing for the 3DS last night, as the new handheld console went on sale across the UK.
Entertainment chain HMV was the official launch partner for Nintendo, with Street Fighter producer Yoshinori Ono on hand to help hype the crowd as the clock struck midnight.
Retailers are offering multiple deals and bundles to attract customers, with Nintendo last night claiming there were around 140,000 pre-orders in the UK. But with prices ranging from $179 to £230, it's still an expensive console even for the dedicated Nintendo fan.
I thought there would be at least a Zelda or some kind of Mario game at launch, but I'll just have to wait for them. It's not holding me back.
"It's kind of pricey. I was thinking maybe £50 less than the current price," said Hugo Fernandez, a lecturer at London Metropolitan who got in the queue at Oxford Street early to take advantage of HMVs free game promotion.
He was also a little disappointed by the lack of big-name Nintendo franchises on day one, although he was willing to shell out over £300 for the console and copies of Street Fighter IV, Ridge Racer and Pilot Wings.
"I can be patient, I can wait a couple of months for Zelda or maybe Mario Kart later this year," he said.
Further up in the queue was Taylor Pelling from Sutton, a gamer willing to pay for the latest gadgets. "It's not bad," he said of the price tag. "I paid £600 for my iPad," adding that he had is eye on copies of Street Fighter IV, LEGO Star Wars III and Pilot Wings.
"I thought there would be at least a Zelda or some kind of Mario game at launch, but I'll just have to wait for them. It's not holding me back, but Nintendo has lost out. I think they've done that so people buy something at the start and then they come back later for the classics," he said.
At the launch party at Old Billingsgate, Nintendo had invited competition winners to sample the 3DS alongside celebrities, guests and press.
Alex, a student from Derby was impressed with the system, but added that he couldn't afford to buy the console at launch but is willing to wait until the next Zelda remake is released.
"I haven't got the money to buy one tomorrow. I'll be tempted to buy it when Ocarina of Time comes out, basically. That would persuade me whatever the price."
"I'm not a great fan of the games being shown tonight," he said of the launch line-up. "I prefer Metroid, Zelda, Mario, classic Nintendo. But I am impressed by the quality of what I've seen."
Viewing the 3D effect of the system without wearing special glasses has been at the heart of Nintendo's marketing message, but getting the 3DS hands-on time with consumers is essential to show the differences between previous iterations of Nintendo handhelds.
"When I first got hold of the 3DS it was weird but as soon as I got used to the effect I knew where I was after ten minutes or so," said Alex, but he wasn't aware the 3D effect could be manipulated with a slider at the side of the system.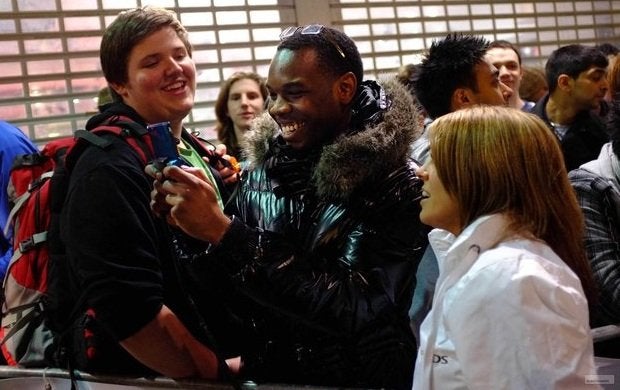 Working through his complimentary beer, Roy, a student from Leicester was also impressed with the console but admitted he was a little disorientated by the 3D.
"I love the effect buy it makes me feel a bit dizzy," he said.
HMV had opened over 100 stores at midnight for the launch, with rival GAME opening 482 stores across the country to meet demand.
The 3DS goes on sale today, priced between £170 and £230, with launch titles including Nintendogs + Cats, Pilot Wings, Super Monkey Ball and Ridge Racer.