27% of Brits have purchased 18-rated games while still underage
While still underage, 65% of millennials have played an 18-rated video game and 35% bought one
According to the latest YouGov poll, 27% of Brits old enough to have been affected by the age rating system have bought an 18-rated video game while still underage.
The online survey of over 2,000 British adults also found that 47% had played an 18-rated video game while still underage.
Obvious generational differences are apparent in the data, with 65% of millennials having played an 18-rated video game, and 35% successfully buying one while under the age of 18.
Interestingly, the number people purchasing 18-rated games while underage was comparable to the number who had done the same with alcohol.
Again, there is a clear generational divide in the numbers with only 38% of 18-24 year olds having bought alcohol underage compared to 66% of 35-44 year olds.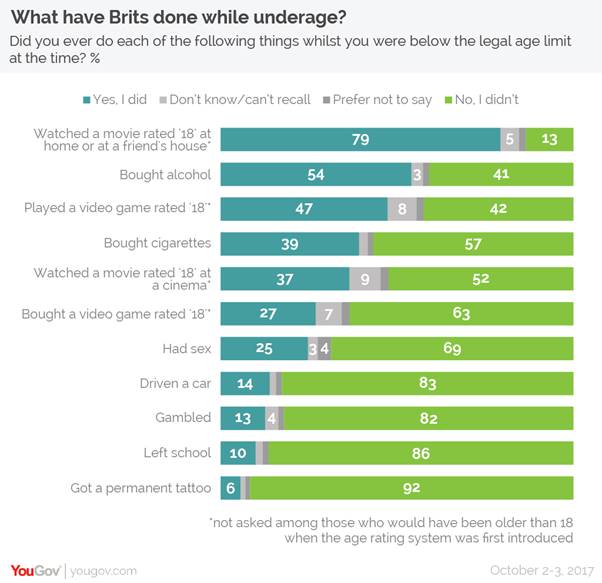 GamesIndustry.biz reached out to PEGI administrators, the Video Standards Council, for comment.
"In the UK, the Video Recordings Act (1984) places clear responsibility on the shoulders of retailers to ensure that they do not sell age restricted media to those underage," said a spokesperson.
"The sanctions include heavy fines and, for persistent offenders, even the threat of imprisonment. Enforcement of the Act is conducted by Trading Standards officials who carry out random checks."
While checks and balances are in place for high street retailers, the waters are a little more murky for online distributors which are not necessarily beholden to the same standards.
"Online providers of streamed or downloadable games are not subject to the VRA since it only applies to physical product," said the spokesperson. "Online retailers of physical product are subject to the VRA and generally rely on the provision of a credit card as proof of age since it is assumed that only those of 18 years and above can get a credit card.
"The more established online providers of streamed or downloadable games will often provide ratings information, but this is not a mandatory requirement."