2020 sees record US games spending at $56.9bn | US Annual Report
Call of Duty: Black Ops Cold War was the best-selling game of the year, while the Nintendo Switch was the No.1 platform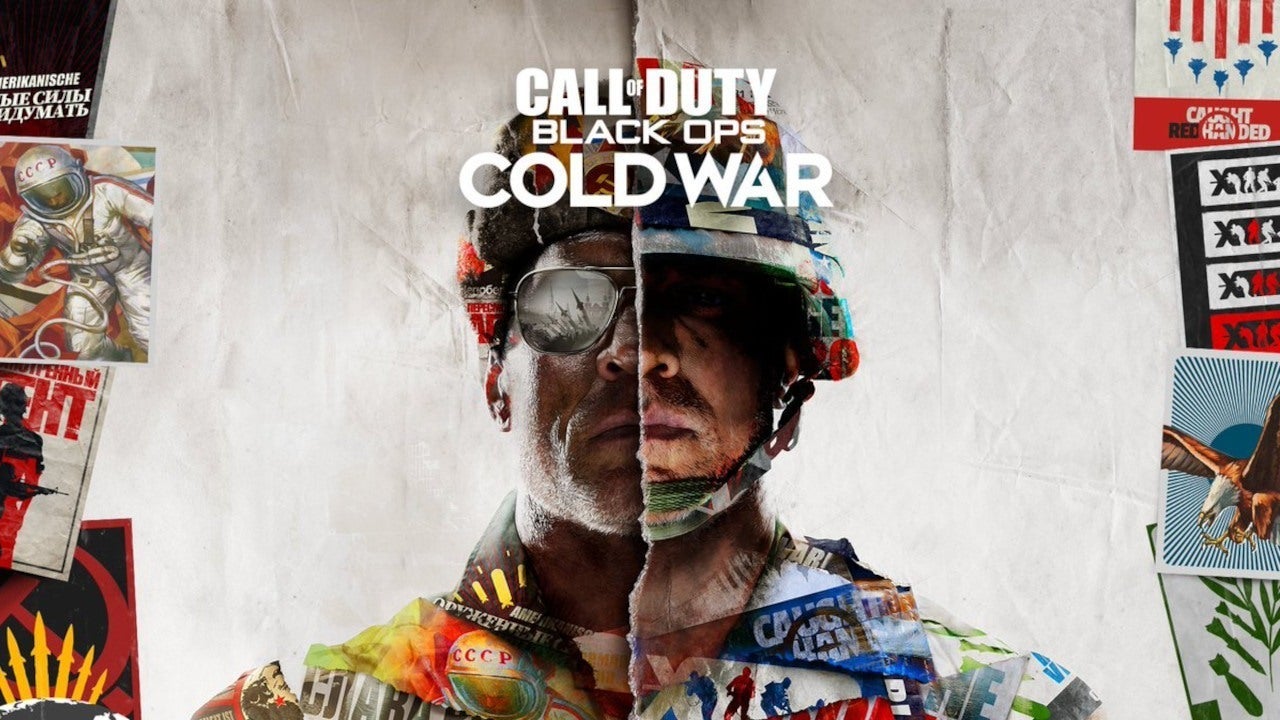 US games sales gained new heights in 2020, with total spending reaching $56.9 billion. That's a 27% increase year-on-year, according to tracking firm NPD's latest report.
Software represented the vast majority (86%) of this figure, with game content spending reaching $48.9 billion in 2020. That included physical and digital games, DLC, and subscription across console, cloud, mobile, portable, PC and VR platforms. Software sales were up 26% compared to 2019.
Call of Duty: Black Ops Cold War was the best-selling game of 2020, followed by another CoD title, Modern Warfare. It's the 12th year in a row that the Call of Duty franchise is at the top of the annual US charts -- a record. Animal Crossing: New Horizons made it to No.3 for 2020.
"In 2020, [Animal Crossing: New Horizons] achieved the highest physical dollar sales for a Nintendo-published game in a calendar year since Wii Fit Plus in 2010," said NPD's VG industry analyst, Mat Piscatella.
Looking at exclusives, The Last of Us: Part II was 2020's best-selling PlayStation exclusive in the US, and has become the third best-selling Sony game of all time in the country, following in the footsteps of Marvel's Spider-Man and 2018's God of War.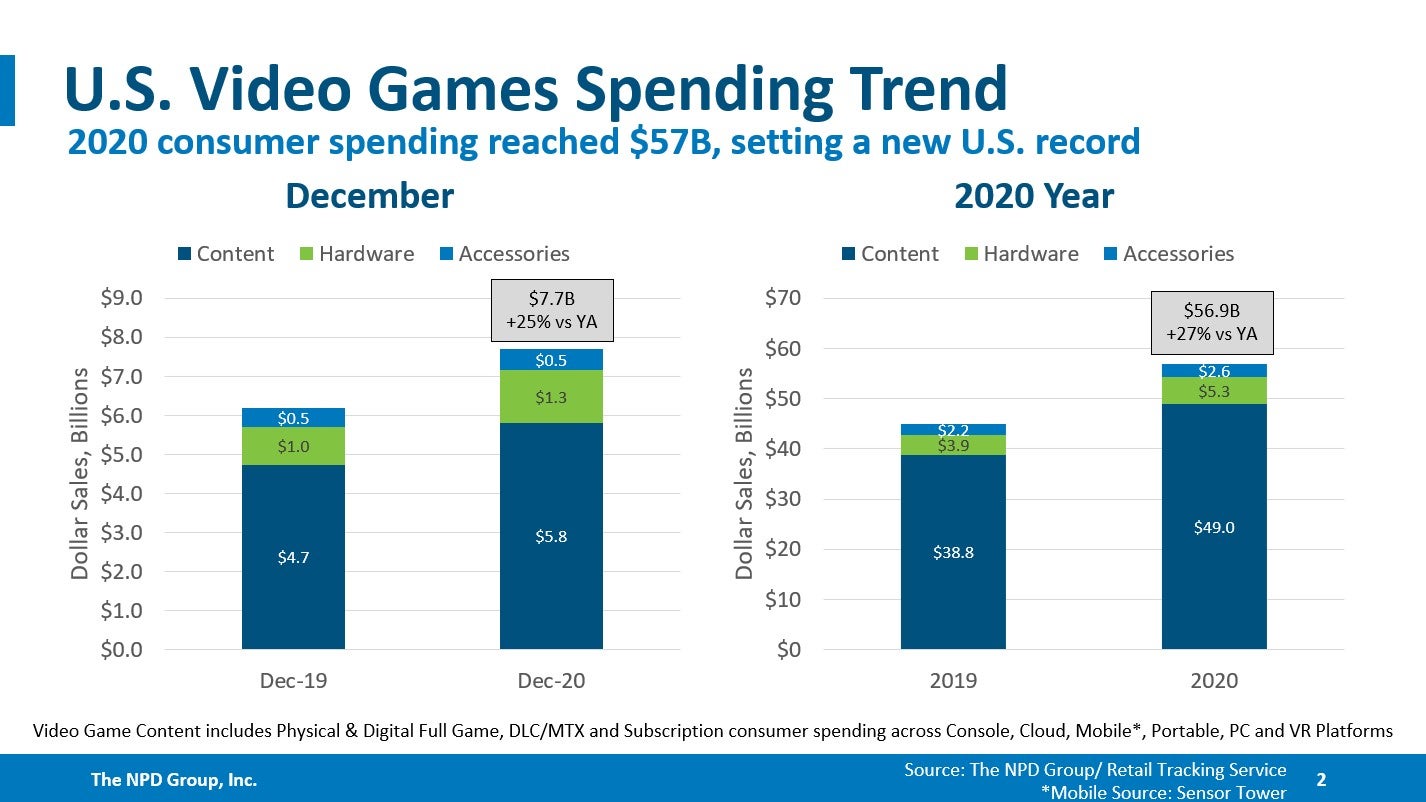 But hardware saw even bigger growth than software, with console revenue reaching $5.3 billion last year, up 35% from $3.9 billion in 2019. Hardware sales were at their highest last year since $5.6 billion was reached in 2011. 2011 was a big year for Xbox 360, with a number of major titles and the first year of the Kinect accessory -- it was also the year that saw the release of Nintendo 3DS.
It doesn't come as a surprise that the best-selling console of 2020 was the Nintendo Switch, followed by the PlayStation 5 when looking at value ranking and the PlayStation 4 when looking at the number of units shifted.
"Annual dollar sales of Nintendo Switch hardware were the second highest for an individual platform in a single calendar year in US history," said Piscatella. "Only the 2008 dollar sales of Nintendo Wii were higher."
Money spent on game accessories also increased 21% in 2020, for a total of $2.6 billion. Sony's DualSense Wireless Controller was the best-selling gamepad of 2020, while the Turtle Beach Ear Force Recon 70 Gaming Headset Black for Xbox was the year's best-selling headset.
The NPD report also highlighted the best sellers of December 2020, with Call of Duty: Black Ops Cold War taking the top spot, followed by Cyberpunk 2077 (for which digital sales were not tracked though) and Assassin's Creed Valhalla. Consumer spending broke records in December, reaching $7.7 billion, a 25% rise year-on-year.
Hardware sales in December were up 38% to $1.32 billion -- the highest total for a December month since 2013. The Nintendo Switch was also the best-selling platform of December.
Here's the 2020 top 20 games (physical and digital) ranked on dollar sales, data courtesy of NPD:
| Position | Title |
| --- | --- |
| 1 | Call of Duty: Black Ops Cold War (Activision Blizzard) |
| 2 | Call of Duty: Modern Warfare (Activision Blizzard) |
| 3 | Animal Crossing: New Horizons* (Nintendo) |
| 4 | Madden NFL 21 (EA) |
| 5 | Assassin's Creed: Valhalla (Ubisoft) |
| 6 | The Last of Us: Part II (Sony) |
| 7 | Ghost of Tsushima (Sony) |
| 8 | Mario Kart 8: Deluxe* (Nintendo) |
| 9 | Super Mario 3D All-Stars* (Nintendo) |
| 10 | Final Fantasy VII: Remake (Square Enix) |
| 11 | Marvel's Avengers (Square Enix) |
| 12 | Marvel's Spider-Man: Miles Morales (Sony) |
| 13 | NBA 2K21* (Take-Two Interactive) |
| 14 | Super Smash Bros. Ultimate* (Nintendo) |
| 15 | FIFA 21 (EA) |
| 16 | Mortal Kombat 11 (Warner Bros) |
| 17 | Dragon Ball Z: Kakarot (Bandai Namco)* |
| 18 | MLB: The Show 20 (Sony) |
| 19 | Cyberpunk 2077* (Warner Bros) |
| 20 | Tony Hawk's Pro Skater 1 + 2 (Activision Blizzard) |
* Digital sales not included