Valve and HTC reveal Vive VR headset
Smartphone manufacturer breaks cover at Mobile World Congress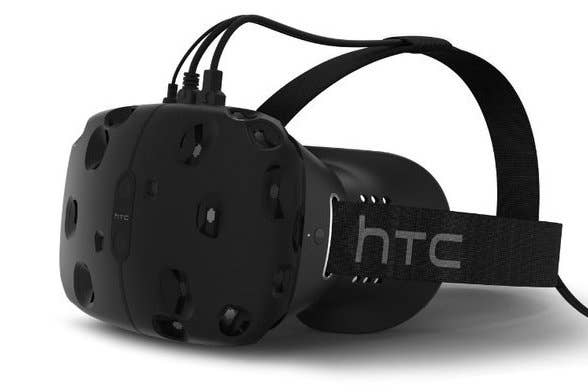 Valve and HTC's new VR headset, known as the Vive, has been revealed by the Taiwanese smartphone manufacturer at Barcelona's Mobile World Congress.
"In recent years we have seen the first forays into creating [virtual reality] experience. But no one has defined the ideal experience. Today we are ready to take you into that world - fully immersed. We will bring you a virtual reality experience no one has seen before, with a ground breaking partner - Valve," said HTC CEO Peter Chou.
"We believe virtual reality will totally transform the way we interact with the world. It will become a mainstream experience for general consumers. The possibilities are limitless."
Valve has yet to speak publicly on the partnership, but the Steam owner is definitely showing off some VR hardware at GDC this week, to both press and developers alike. It's as yet unclear whether this is the only virtual reality device that Valve is working on, or whether there'll be several hardware partnerships, as there are with the Steam Machines. If there are to be multiple hardware partners, it could be that there'll be an entirely different headset on show at GDC.
There's also more news on VR today, as Samsung hosted a MWC press conference where it unveiled the newest version of its Galaxy Gear headset. Sony and Oculus are expected to be sharing more details of their projects from GDC, whilst it's also been rumoured that Nvidia will be announcing its entrance into VR from San Francisco. Expect to hear about all of that as soon as we do.
What we've learned from HTC for now is that the headset is lightweight, with a definite focus on mobility. Wireless controllers and "Steam VR base stations" have been mentioned, with Chou saying on stage that users "won't just be able to look around, but move around and interact much as you do in the real world." A maximum roaming space of 15ft x 15ft was mentioned. In terms of technical specifications, the Vive will feature dual 1200 x 1080 displays operating at 90Hz refresh rate, whilst 70 sensors will facilitate head-tracking.
Release dates have also been touted, with developer kits heading out to "select partners" by Spring. As soon as that is, it doesn't give studios much time to play around with the Vive before they get to work - a consumer release for the HMD is set for Christmas this year, putting it on a collision course with the predicted but as yet unconfirmed street dates of both the Oculus Rift and Sony's Morpheus.