UK Charts: Animal Crossing: New Horizons sales surge 135%
No new games in this week's physical retail Top 40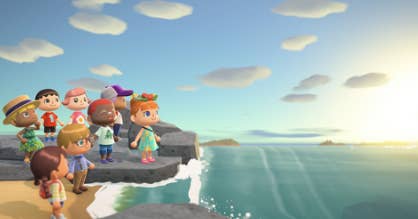 Animal Crossing: New Horizons is back at No.1 in the UK after sales surged 135% week-on-week.
The increase follows an influx of physical stock into the market last week. The previous week's No.1, FIFA 20, slips to No.3.
Nintendo's big new Switch game has far exceeded expectations globally, with the game already surpassing Nintendo's lifetime expectations in just six weeks.
Outside of Animal Crossing, it's a pretty quiet week for new boxed game releases, with no new titles in the Top 40. The second best-selling game of the week is the unstoppable Grand Theft Auto V, which saw a sales bump of 47% week-on-week.
Elsewhere, Final Fantasy VII: Remake ends its time in the top ten, slipping to No.13 this week. Meanwhile, Assassin's Creed fever has boosted sales of Assassin's Creed Odyssey, with the open world Ubisoft game rising 13 places to No.17. The next game in the series, Assassin's Creed Valhalla, was unveiled the week previously.
Almost 225,000 boxed games were sold in the UK last week, continuing the boxed market's resilient performance in the face of a nationwide shutdown of High Street shops.
Here is the GfK Top Ten for the week ending May 9th
| Last Week | This Week | Title |
| --- | --- | --- |
| 2 | 1 | Animal Crossing: New Horizons |
| 5 | 2 | Grand Theft Auto 5 |
| 1 | 3 | FIFA 20 |
| 3 | 4 | Call of Duty: Modern Warfare |
| 4 | 5 | Mario Kart 8: Deluxe |
| 6 | 6 | Star Wars Jedi: Fallen Order |
| 7 | 7 | Luigi's Mansion 3 |
| 9 | 8 | Red Dead Redemption 2 |
| 11 | 9 | Minecraft (Switch) |
| 22 | 10 | New Super Mario Bros U Deluxe |