The US video game industry gets back to growth
Improved hardware supply and blockbuster new releases driving market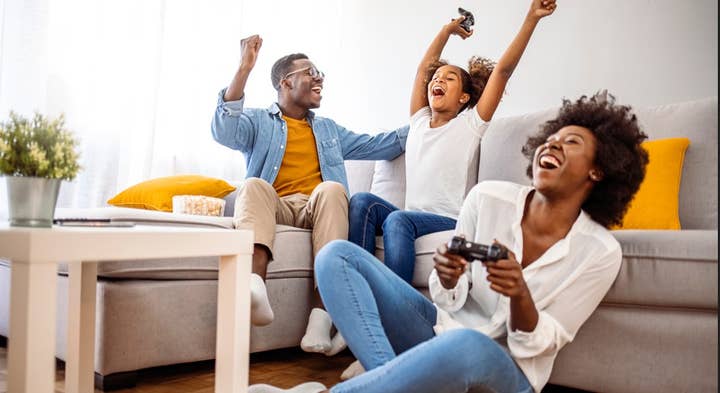 The decade has been a turbulent one for the US video game industry. It began with the surge in players, engagement and dollars from people wanting to stay connected to family and friends through the pandemic. This was followed by similar declines across all measures with the return to spending on experiences, which happened to come along with new hardware console supply constraints and numerous game delays thrown in for good measure.
Today, however, the supply of new generation hardware has improved and stabilized, blockbuster games are being released, and player engagement patterns have settled into a new normal. This has allowed the market to settle after months of wild swings - both higher and lower.
Below are just some of the factors that are influencing the market today and will be worth following closely moving forward. Circana (formally The NPD Group and IRI) expects the US video game market to finish 2023 having delivered 3% growth, reaching $58.3 billion.
The Story So Far
Hardware did much of the heavy lifting in getting the market back to growth over the past 12 months. Sales of new hardware products contributed $7 billion of the $57 billion in total video game spending in the US market over the past 12 months, 19% higher than the same period a year ago.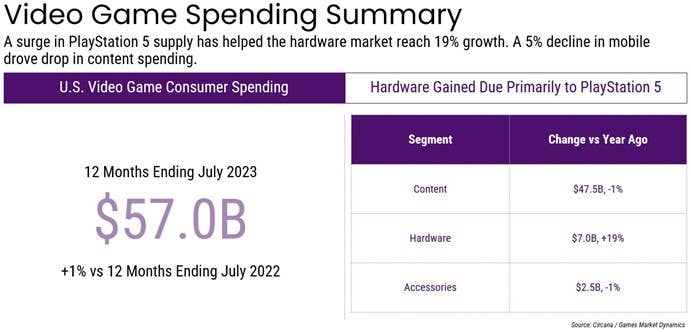 On a trended basis, the $57 billion in spending over the past 12 months is 1% higher than a year ago, and 13% above the pre- and early pandemic 12-month period ending in July 2020.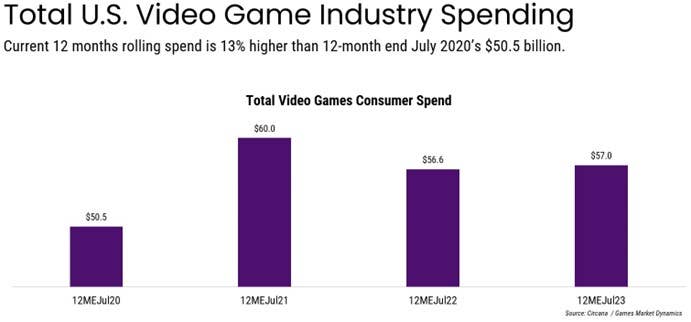 Hardware Supply Flowing
After a period of post-launch constraints that both limited sales potential while also causing planners across the industry to pull out significant amounts of hair, supply of new hardware has become more readily available. PlayStation 5 has been particularly strong over the past year, with its supply noticeably improving beginning in July 2022. We expect PlayStation 5 to remain the hardware market sales leader into at least 2025.
Despite the supply constraints early in the generation each console is comparing well to prior hardware releases. On a comparative basis, PlayStation 5 is now trending 5% above PlayStation 4 and 87% ahead of PlayStation 3 in time aligned units sold life-to-date, while Xbox Series trails Xbox One by 10% yet leads Xbox 360 by 6%.
Switch has also continued to perform strongly in 2023, helped by the release of The Legend of Zelda: Tears of the Kingdom. In fact, the US lifetime sales of Switch hardware finally surpassed those of Wii in the US market during July 2023. Switch lifetime sales now trail Xbox 360 by less than one million units, and PlayStation 2 by fewer than five million.
We are, however, seeing a shift in the customer base for new video game hardware. Circana's Checkout service has uncovered that high income households (those earning over $100k/year) are contributing most to current video game hardware sales, a significant shift from where the market was at the beginning of 2020. Higher prices in everyday spending categories such as food and gas, as well as a shift from Switch towards more expensive PlayStation 5 consoles are likely contributing factors, among others.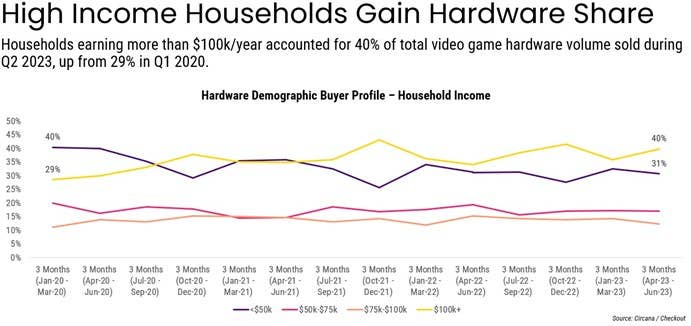 Blockbuster Titles Offsetting Spending Slowdown in Mobile, Subscription and Add-Ons
Growth in digital premium full game downloads has been the biggest contributor to content performance so far this year. Several prominent new releases have helped drive these gains, while we've continued to see a shift towards digital premium downloads and away from physical discs.
Sales of these blockbuster new releases have offset declines in mobile as well as a slight dip in digital add-on content spending.
One area that did particularly well through 2020 and 2021 was subscription. New service offerings, a limited new release slate due to delays, and a consumer base with plenty of time regularly resulted in double-digit percentage growth for subscription spending early in the decade.
Recently, however, subscription spending has plateaued. US consumer spending on video game subscription services has settled in at around $400 million per month after having first reached that level in November of 2021. Subscription fatigue, fewer available dollars for discretionary spending due to higher food and gas prices, slow mass market adoption of cloud gaming and a strong slate of new premium releases may be contributing factors to the slowdown.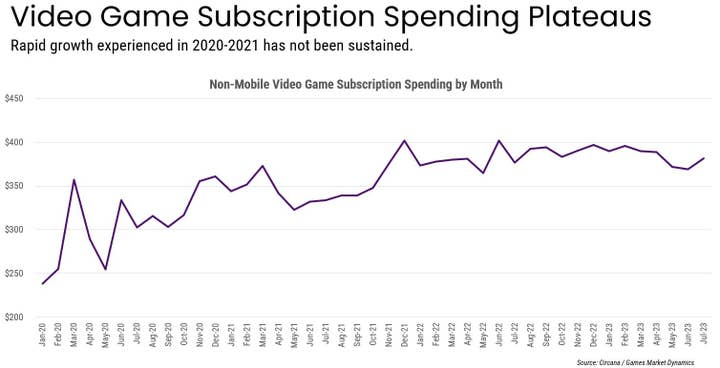 Headsets Helping Accessories
Accessories spending spiked during the second and third quarters of 2020 as consumers started to work and learn more from home. Headsets and headphones were one of the areas of spending that grew the fastest in that period. More readily available supply of PlayStation 5 and Xbox Series consoles, along with replacement purchasing for those headsets that are at or approaching three years old, have helped push headset sales 2% higher during 2023 year-to-date compared to the same period a year ago.
The PlayStation DualSense Edge and Xbox Elite gamepads have also helped, with the market continuing to show a positive response to premium gamepads.
Looking at the long horizon Circana data allows, we can see that – generally - changes in video game hardware and accessories spending have correlated. In 2022, however, the market experienced a dip in accessories spending even as hardware sales increased. This is more due to the factors that brought forward accessories demand earlier in the decade. It is reasonable to expect accessories and hardware to align more closely in 2023 and beyond.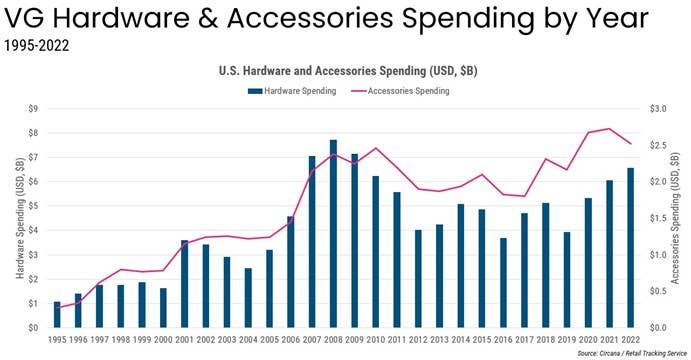 Other Trends We're Watching
Of course, these are just a handful of the factors impacting the US video game market and outlook – which could also change quickly and unexpectedly.
Among others we're keeping an eye on:
Holiday 2023 Gets Competitive - For the first time since 2019, the holiday window this year will feature full stock of video game console hardware systems and a large library of new video games to play.
Student Loans Looming - The resumption of student loan repayments may impact the available dollars for discretionary spending on categories like video games, particularly for lower income households.
Portable PC Growing - Steam Deck and the ASUS ROG Ally have provided optimistic signals of what could become a significant PC portable hardware gaming marketplace. One of the more exciting growth areas in video games.
The US video game market continues to be a dynamic and quickly changing landscape, but one which warrants continued optimism in both the short and long-term. While we do expect 3% growth in 2023, there will continue to be turbulence. Hopefully not from macro factors like a pandemic, but more from changing video game player demographics, business models rising and falling (and even rising again), and - perhaps most importantly - the creative vision of the artists that make the games people love.
Interested in more insights? Don't miss Circana's next webinar: Five Trends Impacting the US Video Game Market.