Steam sees "Big Picture"
TV-friendly interface for Valve's online game service launches today; developer could enter hardware market if customers really want it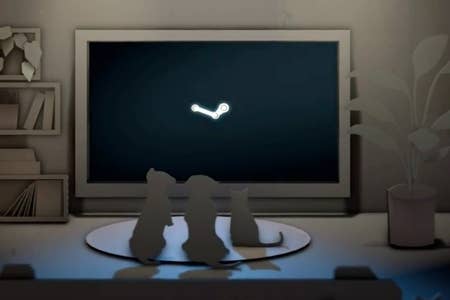 Valve is taking another step towards the living room, as the company is launching the TV-friendly "Big Picture" mode for its Steam online gaming service today. The new mode includes a redesigned interface better suited for big-screen TVs than a traditional monitor.
In addition to making menu screens easier to read and navigate on a larger screen, the Big Picture mode will include a web browser with a novel approach to a virtual keyboard, one designed specifically for console-style controllers. A flower-like "Daisywheel" outline contains eight different sets of four characters each. Users can enter text by selecting one of the leaves with the left analog stick, and then choosing the specific character with the controller's corresponding face button.
Big Picture mode adopters will also be able to have their systems launch into Steam's Big Picture mode on start up to facilitate those who want to leave a dedicated gaming PC hooked up to the TV. To try out the Big Picture mode, users will simply push a "Big Picture Mode" button on the top-right of the Steam interface. The PC beta of Big Picture launches today, with a Mac beta coming soon.
While the new mode plays into speculation that Valve might be entering the console hardware market with its own Steam Box, the company has repeatedly downplayed that possibility. Valve's Greg Coomer, who led up the Big Picture project, told Kotaku the Steam-maker wanted to first see if people embraced or ignored the mode in the first place.
"And then over time, I think we're going to figure out which of those scenarios, or what ways do customers really want us to get involved in solving the rest of the problems that, say, our software can't solve for them," Coomer said. "And if it's getting involved in shipping some kind of hardware, then we will get involved in doing that if we need to."
Gabe Newell commented on Big Picture: "PC gaming continues to be the leading edge of entertainment, whether it's social gaming, MMOs, graphics hardware, free-to-play, or competitive gaming. With Big Picture for Steam, we are trying to do our part to give customers and developers what they want - their games, everywhere, optimized for the environment in which they are playing."
Valve's Steam partners seem excited by the opportunity to expand the gaming experience to the living room as well.
"Sega's roots are in living-room gaming," said John Clark, Vice President of Digital Distribution at Sega. "For the first time since the advent of PC games decades ago, gamers are finally going to have access to the kind of entertainment experience we've always wished they could have with our PC titles - one that's incredibly social, comfortable, and accessible. We're excited about the opportunity, and Big Picture has inspired us to bring even more of our titles to Steam in the future."
"There is nothing more satisfying than slaying thousands of orcs on your big screen. And many of the most die-hard players of Orcs Must Die 2 have always preferred playing with a game controller. Steam's Big Picture mode finally marries these two and delivers a true living room entertainment experience to players."
"We're pleased that gamers on Steam will now be able to immerse themselves in our entertainment experiences in the comfort of their living room on large screen TVs," added Steve Glickstein of Take-Two Interactive Software. "From action and adventure to sports and sims, our titles deliver big fun on big screens."