Spider-Man leads Marvel's "epic" new console strategy
Comic company moving away from movie tie-ins, says the future of Spider-Man games is with Sony and Insomniac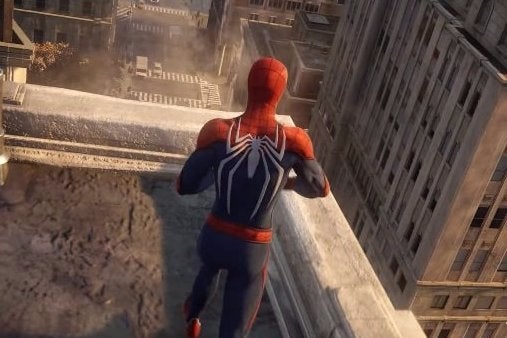 On Monday night, Sony closed out its E3 press conference with the announcement that Ratchet and Clank developer Insomniac Games was working on a new Spider-Man game for the PlayStation 4. For Marvel Games head Jay Ong, it was the public debut of a new direction for the company's console gaming business since he signed on two years ago.
"When I joined, I knew that with a treasure trove of some of the greatest super hero stories and characters ever, it should be our mission to devote ourselves to making these great, epic games our fans will love," Ong told GamesIndustry.biz. "So along with the senior execs at Marvel and my team within the games business, we devised a brand new strategy to be very selective and only partner with the best game companies on earth. We wanted to work very selectively with companies that shared our vision, our ambition, and really usher in a brand new era for the Marvel games business."
We ask if the word "epic" means Marvel's strategy on consoles is limited to AAA games, and Ong confirms our suspicions.
"For the most part, yes. Although I think it's part of our strategy to have a relatively diversified portfolio that meets different kinds of audiences and gamers' tastes."
The overwhelming success of Marvel Studios' much touted Cinematic Universe has also shaped the new strategy, although maybe not as directly as one would expect. Ong said the big lesson he's taken from the Marvel movies is in the way they've captured the humor and the human aspects of the company's super heroes and translated that to the big screen. They feel authentic to the source material, even when certain characters or events are changed to better fit the medium.
As for whether the licensing deals are flexible enough to allow for the same cross-overs and cameos of super heroes that the movies have benefited from, Ong sidestepped the question.
"The world's full of surprises," he said. "You never know."
"We've had a long history of success with Activision... but the future of the Spider-Man console games is with Sony and Insomniac."
So assuming Marvel always tried to find talented developers to bring its characters to games, how does the new strategy really differ from the old strategy? Ong explained that one big change was that the company used to create games based on movie IP, or at least tied to movie releases.
"It was difficult to succeed with that one, often times there wasn't enough time to come out with something truly terrific," Ong admitted.
While there's a new Spider-Man movie on the way for July 2017, Insomniac's project has no release window yet. It didn't sound like Ong was particularly concerned about having the game and movie promotional windows overlap in any meaningful way, either. As he explained, Spider-Man is an evergreen property for Marvel, and would make a splash no matter when it's released.
When asked if this meant Marvel's previous console licensing partners--Sega, Capcom, Activision--are out of the picture, Ong focused on the last of that group, the publisher behind Spider-Man console games since 2000 and the original PlayStation Spider-Man game.
"We've had a long history of success with Activision, and we still have a great relationship with them," Ong said. "But the future of the Spider-Man console games is with Sony and Insomniac. We're delighted about this partnership, and that's something that's going to continue forward. With [regard to] other console partners, stay tuned. There's many more interesting additional things to come. But Activision is in the past, with regards to Spider-Man."