Eight things to check out during GI Live: Online
A plethora of indies are showcasing their games this year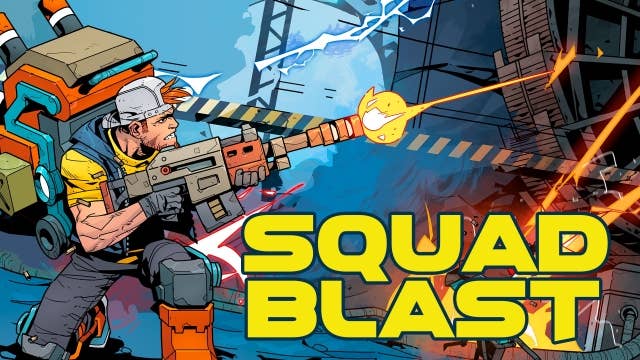 GI Live: Online is upon us, and one again we have a plethora of talks to see, roundtables to take part in and businesses to speak to.
We also have a whole host of exciting new indie developers, who are looking to meet publishers, investors and service companies, to help get their next game to market.
We also have a showcase for these indie titles, and here is our selection of games and projects that might be worthwhile checking out over the next two days.
GI Live: Online is a fully digital event that runs Tuesday, May 31st - Wednesday, June 1st. Keynote speakers include Take-Two CEO Strauss Zelnick and head of ID@Xbox Chris Charla. Tickets are on sale now. For more information on who is going and what there is to do, check out live.gamesindustry.biz.
SquadBlast
ULTRAHORSE
Having already picked up an award from Nordic Game, and fresh from an appearance at WASD in London, SquadBlast comes to GI Live: Online. Developed by Ultrahorse, the game is a side-scrolling multiplayer tactical shooter.
The Crow of Whitechapel
Novelab
It's London, 1888. You are a crow navigating the streets of Whitechapel. You become the witness of strange encounters and violent murders: will you find the Ripper? The Crow of Whitechapel is a VR adventure mystery game where players must use their observation and exploration skills to solve puzzles set in a rich narrative and cinematographic experience.
Mars Vice
Rho Labyrinths GmbH
This game is described as a 'Queer Biopunk Adventure'. The story follows a pair of civil investigators as they track down police corruption in the Martian city of Pavonis. The game boasts branching, non-linear dialogue, it combines visual novel elements with 3D gameplay mechanics, and features plenty of selfies and comedy for good measure.
Happy Little Planet Saga
Pink Fox Games
Developer Pink Fox Games has created a series of games under the title Happy Little Planet, and have been working on them since 2020. The games teache sustainable habits to preschoolers via games, song, stories, animations and preschool activities.
Lost Twins 2
Playdew
Lost Twins 2 is a cute puzzle adventure that's designed to challenge, entertain and maybe even inspire. Guide Abi and Ben on their journey to find a way back home across a whimsical polygonal playground crafted with an enormous amount of care.
New Universe
New Universe
This web platform is designed to let you create and share games as easy as you create and share content on social media, and additionally get paid everytime someone plays your games without any intermediaries. This is via a web browser API standard that rewards creators for their work whilst facilitating a fairer, ad-free, open web. You don't need to know how to program, or have any prior experience creating games, you can create directly from your browser. You can check out and find the latest games from the community, and you can also have fun in the game's main hub -- Turtle Island -- which features plenty to do and explore (and based on a real Colombian location).
Grammarian Ltd
Algorocks
Welcome to 2099, where all communication must use correct grammar. Anyone who uses incorrect grammar will accumulate bad credits that lead to getting fired, denied public service, or even jailed.
You will play as a fresh graduate of theoretical mathematics who made grammar your fiftieth(ish) priority. Because of a mix-up, you are now working as a grammar validator in the biggest grammar validation agency. Work your way up from "Junior Passable Intern" to "Editor Extraordinaire." Upgrade your crummy apartment, buy candy, or ride a helicopter to the office.
SIGIL: Enter The Gloam
Albedo Informatics Inc.
SIGIL is a funny location-based augmented reality (AR) mobile game that draws upon a rich tapestry of myths, legends and folklore, bringing them to life. Players can explore magical alternate dimensions that transform the world into something not boring, engage in fast-paced magical duels with creatures and harvest and collect ingredients to craft powerful hexes.
For more details about GI Live: Online, visit live.gamesindustry.biz.