Ni No Kuni secures UK #1 for Namco Bandai
Quirky Ghibli/Level 5 collaboration rules retail despite supply issues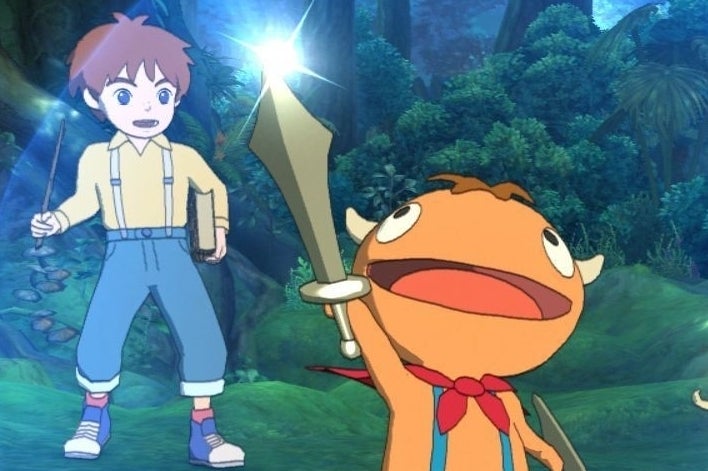 Ni No Kuni, a whimsical JRPG which combines the talents of Level 5 and Studio Ghibli, has secured the number one spot on the UK retail chart. despite problems with supply and downloading via the PlayStation Network store.
"We expected good sales as the pre orders were close to shipment," said Namco's UK Lee Kirton. "In the end we have created a demand for this amazing game and have stock going out to channels this week.
"We have focused PR, marketing and the community has been brilliant. We have been solid with communication and reviews in the UK have been astonishing. We are very pleased, but ultimately it's down to an incredible game from Level 5 and some strong communication from me and my team."
The PS3 exclusive sees off Black Ops 2, pushing it into third place, with EA's perennial FIFA in second. Agent 47's collected adventures in the Hitman HD Trilogy secure him fifth place, with his most recent outing, Absolution, climbing a place to ninth.
All chart data is collated by UKIE and GfK Chart-Track.
| Last Week | This Week | Title |
| --- | --- | --- |
| New Entry | 1 | Ni No Kuni |
| 2 | 2 | FIFA 13 |
| 1 | 3 | Call Of Duty: Black Ops 2 |
| 3 | 4 | Far Cry 3 |
| New Entry | 5 | Hitman: HD Trilogy |
| 5 | 6 | Assassin's Creed III |
| 6 | 7 | Need For Speed: Most Wanted |
| 7 | 8 | Just Dance 4 |
| 10 | 9 | Hitman: Absolution |
| 9 | 10 | Skyrim |
| 4 | 11 | DMC |
| 8 | 12 | Football Manager 2013 |
| 13 | 13 | Halo 4 |
| 19 | 14 | Forza Horizon |
| 15 | 15 | Skylanders Giants |
| 11 | 16 | LEGO Batman2: DC Super Heroes |
| 12 | 17 | LEGO Lord of the Rings |
| 14 | 18 | Sonic & All Stars Racing Transformed |
| 16 | 19 | WWE '13 |
| Re-Entry | 20 | Sleeping Dogs |