New games on Steam in 2016 rose 40% over last year
Over 4200 games hit the store in 2016, Steam Spy says, equivalent to 38% of its lifetime total
The number of games on Steam continues to rise at a daunting rate. According to new data from Steam Spy, the number of full games released on the store this year rose 40% over 2015.
Steam Spy founder Sergey Galyonkin published a chart on Twitter that indicated a total of 4207 games launched on Steam in 2016, up from 2964 last year. If accurate, that means 38% of all games on Steam were released within the last 12 months - a sobering thought for any developer trading on Valve's market leading platform.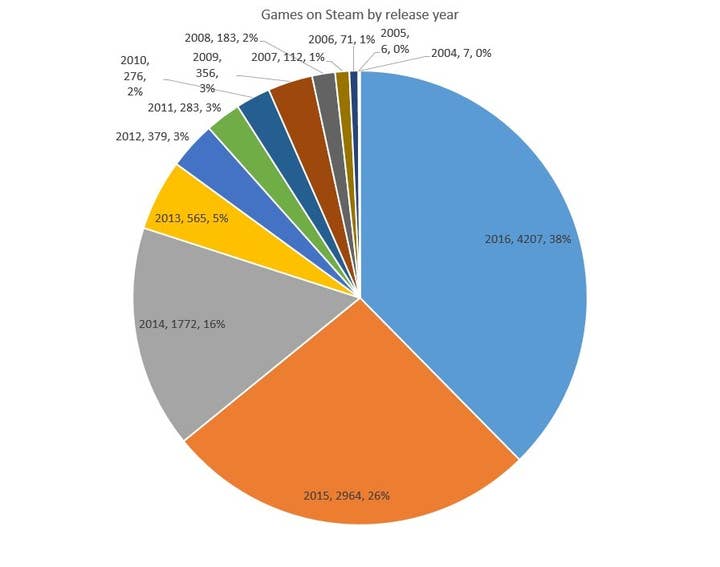 Of course, the notion that Steam is crowded with product is hardly new, but Steam Spy's chart - republished above - clearly illustrates the pace at which the trend is playing out.
The only small consolation is that the 40% rise over last year is actually lower than the 67% increase in new games between 2014 and 2015. Galyonkin noted that the chart doesn't include movies and non-game software, but it also filters out relevant content like DLC packs and "games without owner data."
Growing up in the 80s I never knew the pain of having too many games to play. Until 2014 :)

— Steam Spy (@Steam_Spy) November 30, 2016
Valve is certainly cognisant of the issues that Steam's teeming inventory has created for both developers and consumers. It has responded with two "Discovery Updates" that gave more control over the experience to both groups, the first in 2014 and the second little more than a month ago.
Following the second Discovery Update, GamesIndustry.biz talked to developers about the "huge impact" of the changes. You can read the full report here.