Namco Bandai charges $55 for iOS iDOLM@STER
The iOS versions of last year's PSP title go for a hefty sum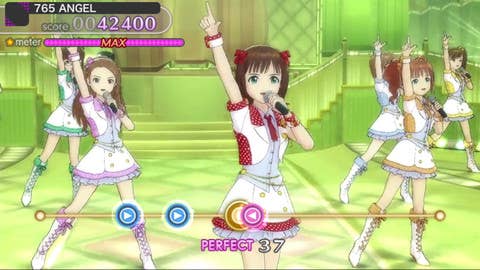 In October of last year, Namco Bandai launched the Japanese release of iDOLM@STER: Shiny Festa for Sony's PlayStation Portable. The game had three versions, Honey Sound, Funky Note, and Groovy Tune, each with its own song list, characters, and OVA episode. All three versions cost 5,980 yen ($60.30/£39.44) for the UMD version or 5,380 yen ($54.25/£35.49) for the downloadable version. The PSP version remained Japanese only, so any English fans were out of luck until now.
Namco Bandai has localized iDOLM@STER: Shiny Festa in English, but the game is being released on iOS instead of its original platform. The three versions of the game have been renamed: Harmonic Score, Rhythmic Record, and Melodic Disc. The iOS versions have retained the PSP games' content and their premium pricing. All three games cost $54.99 on the Apple App Store.
The price point puts Namco Bandai's games far above even the company's own previous high of $14.99 for the iOS version of Soul Calibur. The game also contains a DLC store for future song releases. The release of the expensive iDOLM@STER: Shiny Festa is a bold move by the publisher, especially in the crowded App Store.