GDC survey takes dev temperature on studio toxicity unions, blockchain, more
Organizer Katie Stern talks about annual survey results and going forward with March's in-person event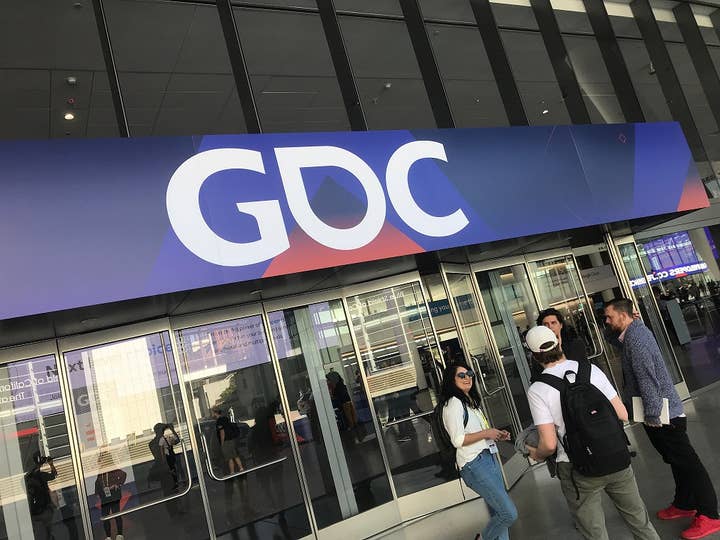 Every year, the Game Developers Conference runs a State of the Industry Survey, asking developers their thoughts on a variety of industry topics, from the timeless to the topical.
In advance of this year's show (set for March 21-25 in San Francisco's Moscone Convention Center), GDC organizer and Informa VP of media and entertainment markets Katie Stern talks with GamesIndustry.biz about some of the results, as well as the third straight year the event has been re-shaped by the pandemic.
In 2020, GDC was postponed from its usual March window as COVID-19 ramped up and reached pandemic status, replaced by a smaller virtual event that August. Last year GDC was planned to be a hybrid event but went online only during a resurgence of the pandemic.
For 2022, the plan is to have a hybrid event with 15,000 to 17,000 attendees expected on site, down from around 28,000 or 29,000 attendees in pre-COVID GDC years. And while the Omicron variant of COVID-19 has spread far and wide in recent weeks, it doesn't sound like there's much appetite for yet another exclusively virtual GDC.
"We're really feeling from the community -- both on the sponsor and attendee side -- there's just this desire to move forward and get together..."
"We're really feeling from the community -- both on the sponsor and attendee side -- there's just this desire to move forward and get together, and there's only so much you can do over a screen," Stern says, adding, "And obviously keeping that in mind, in the context of the world, we're really putting a strong focus on the health and safety element of the event."
She mentions the city of San Francisco's "conservative" public safety regulations, the Moscone Center's air purification system, attendee mask and vaccination requirements and a new touchless registration process.
On-site focus aside, GDC 2022 will have a virtual component. Stern says it won't be as robust as the roughly 700 sessions offered virtually at GDC 2021, but it should be "much larger" than 2020's GDC Summer offering.
Stern estimates that about two-thirds of sessions on-site attendees have access to will be viewable online, and she notes that people who buy a virtual ticket will also get three month access to the GDC Vault, the online repository of recorded sessions. Still, it's a clear hit to the accessibility of an event that last year had every session viewable remotely at its scheduled time.
"Our goal is always to get GDC to a point here it's as accessible as possible, whether that's price points, ability to travel, closed captioning, or any number of ways to make the content easy to access for the audience," Stern says. "Our goal here certainly is not to reduce that access level. In fact, it's a little bit more trying to create a balance so it doesn't feel quite so overwhelming when you're in that online experience."
She adds, "We're improving all of our translation services, and we're improving our closed-caption servicing. So we're really trying little by little to keep that a focus, and everything accessibility means, not just 'able to get on-site in-person.'"
"We're really looking at this year as kind of a Renaissance for the game industry"
This year's show also has a theme of sorts, according to Stern.
"We're really looking at this year as kind of a Renaissance for the game industry," she says. "It's been a really interesting year of rebirth as we've taken moments to reflect on who we are as people, how we show up at work, and how does the work growth support the work that we do?"
Questions around the workplace loom large in the State of the Industry survey highlights Stern shares. The survey took responses from 2,700 game industry professionals (roughly 60% of them based in North America), and was conducted in November and early December, so it doesn't reflect some big news that's happened since then, like Facebook's big push for the metaverse and associated renaming and the emergence of Omicron variant. It also misses out on the Wall Street Journal's exposé about Activision Blizzard, but responses did reflect the impact of two government lawsuits alleging gender discrimination by the publisher.
In fact, 38% of respondents said their employers reached out to address workplace toxicity issues in the wake of those lawsuits. (That number may have increased considerably since then; it was reported that Microsoft, Nintendo, and Sony also sent out internal emails to staff discussing Activision Blizzard specifically after the Wall Street Journal report.)
There was also increased interest in unions, with 55% of respondents saying the industry should unionize, the highest mark yet in the survey's history. Only 14% said it shouldn't, with 22% saying "Maybe" and 9% in the "Don't know" category. Whether they actually will unionize was another matter, with only 18% believing it will happen.
The survey also asked if there had been any discussion about unionization at developers' companies, with 23% of respondents saying there had been. As for how the companies reacted to those discussions, 36% said they were supportive, 8% said the employers opposed them, and 21% said the companies were unaware the talks were happening.
Beyond working conditions, developers were asked separately about blockchain gaming/NFTs and the metaverse, two areas drawing a lot of attention and investment of late. When asked about their studio's interest in NFTs or cryptocurrency as a payment tool, 6% said they were very interested, 21% were somewhat interested, and 72% were not interested at all. The remaining 1% were already using it.
In some ways, Stern says that breakdown is normal for any emerging field in games. There are a dedicated group of early adopters completely sold on the idea and a larger group of people who don't see the same potential in it.
"[Discussion around NFTs] is slightly different, and it's really grounded in some fundamental personal beliefs"
In other ways, the conversation around cryptocurrency still stands out from previous discussions about virtual reality, esports or the like. Stern says 1,300 respondents gave additional remarks beyond just answering the question about cryptocurrency, with the responses showing "extreme passion on both sides of the spectrum."
"It is slightly different, and it's really grounded in some fundamental personal beliefs, too," she says. "So I think you're starting to see some of that, people bringing their whole self, their thoughts and opinions to the conversation as well. Because it's impacting the ethics of how people engage with games and money. And it's impacting the environment, which is definitely at a flashpoint right now. I think it's an interesting conversation and taking that same question next year will be really fascinating to see how it evolves."
She adds, "Even if this is a little bit more on the bleeding edge, the amount of conversation happening about it is really interesting. So even though 72% are not interested in it in any capacity, the number of folks that are talking about it and toying with it is quite a large amount for how early we are in the cycle with this type of technology."
Questions about the metaverse also showed a split in responses, although Stern says the responses didn't show the issue to be as contentious as with NFTs and cryptocurrency. When asked if they were working on or planning to work on user-generated content platforms, 17% of respondents said they were, with the remaining 83% not involved at all.
There was also skepticism of the metaverse, as 33% believed the concept would never deliver on the promises being made for it.