GameStop rakes in nearly $3 billion over holidays
New console sales and collectibles drive revenues up slightly; thin Nintendo lineup blamed for lower software sales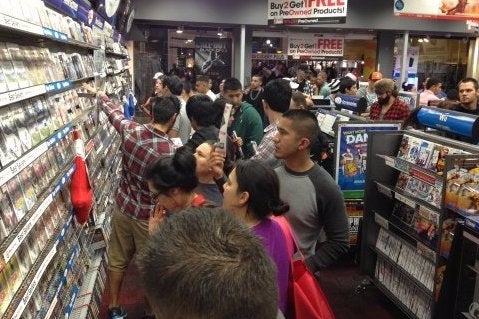 GameStop finished 2015 on a high note, as the specialty retailer today announced that sales over the nine-week period ended January 2 were up 1.8 percent to $2.99 billion. CEO Paul Raines said the company was pleased with the numbers, and attributed the growth to new console sales and collectibles.
Platform-holder promotions for the PS4 and Xbox One helped push new hardware sales up 4.5 percent over the holidays, while new software sales for the two systems jumped 38 percent year-over-year. However, GameStop noted that new software sales were down 9.7 percent overall, saying gains for Sony and Microsoft's new systems were more than offset by "fewer Nintendo titles available compared to last year and declines in prior gen software sales."
As for collectibles, GameStop tripled the amount of sales recorded due to swag like the Funko Mystery Box and the Star Wars BB-8 app-enabled droid. The company's 2015 acquisition of ThinkGeek also helped drive sales in its "Other" category up 80.4 percent for the holidays.
The results continue a pendulum-like trend for GameStop's holiday sales seasons. The retailer has alternated between sales growth and declines each holiday period since 2011.