GameStop holiday sales slip 4.6%
Specialty retailer says Wii U launch was successful, but couldn't offset decline in store traffic, 15.6% drop in used sales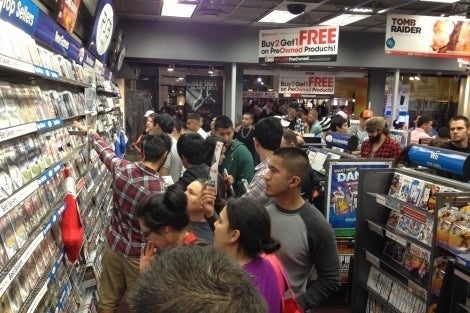 For the first time since it merged with chief rival Electronics Boutique in 2005, GameStop has seen its year-over-year holiday sales total decrease. Today the company announced sales for the last nine weeks of 2012, revealing a $2.88 billion mark that stands as a 4.6 percent decrease from 2011's holiday haul.
GameStop blamed a lack of in-store traffic as the primary culprit. Second-hand sales were down 15.6 percent, with the retailer citing limited inventory due to fewer games released in 2012. New game sales were down 5.1 percent, while hardware numbers were down 2.7 percent.
As for what went right, GameStop cited a successful Wii U launch (with 320,000 systems sold worldwide) and continued growth in its online and mobile businesses. Digital sales were up more than 40 percent for the holiday period, e-commerce sales rose 20.5 percent, and mobile brought in $76.5 million. The retailer didn't say how much of an increase that constituted, but its mobile buyback program for iOS devices had barely begun at the outset of the 2011 holiday season.
GameStop cautioned investors that it expects to come in at the low end of its earnings per share guidance range of $2.07 to $2.27. Additionally, it narrowed its expected range for comparable store sales. Previously set between -7 percent and +1 percent, GameStop now expects comparable store sales to do no better than -4 percent for its fiscal fourth quarter.