Gabe Newell debuts in Forbes billionaire list
25th annual list estimates Newell's fortune at $1.5 billion, Valve at $3 billion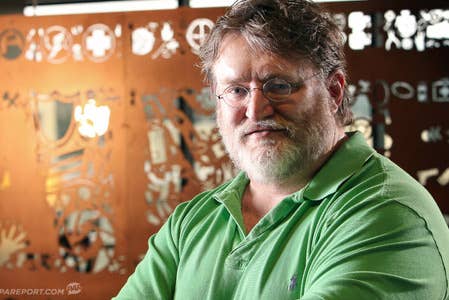 Forbes magazine's annual billionaire list is the most detailed chronicle of the world's wealthiest individuals, and this year Valve's Gabe Newell became the latest games industry professional to join it.
Newell, Valve's co-founder and managing director, has a net worth of $1.5 billion, putting him at number 854 of the 1226 richest people on the planet.
Valve Corporation was founded in 1996 by Gabe Newell and Mike Harrington, both former Microsoft employees using their stock options as seed money.
Since then the company has gone from success to success; with seminal games like the Half-Life, Portal, Left 4 Dead and Team Fortress, but most significantly with its online digital distribution service, Steam, which has doubled its revenue for each of the last seven years.
As a private company Valve Corporation doesn't report its earnings, and makes very few official announcements related to finance. However, Forbes' discussions with an array of industry insiders and analysts put the company's value at more than $3 billion - a "conservative estimate" - and Newell owns more than 50 per cent of Valve.
And the company is actively engaged in developing new sources of revenue. During a talk at GDC - reported by Gamasutra - Valve's Joe Ludwig revealed that Team Fortress 2 generates 12 times more monthly revenue with a free-to-play business model than it did through copy sales.
"This is just the beginning of taking the lessons we've learned from TF2 and applying them to Steam itself," Ludwig said. "It was risky, everything could have gone horribly wrong, but we felt it was worth the risk to try the new business model."
The Forbes "rich list" was first published 25 years ago. This year's list was the product of 50 reporters in 16 countries working throughout 2011.