EA Sports president: People told us just to copy PES
Andrew Wilson explains how FIFA went from the underdog to top of the sports gaming league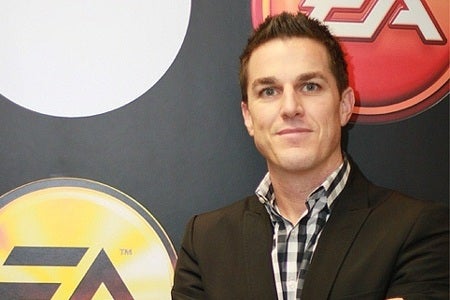 Seeing the FIFA franchise dominate the charts it's easy to forget that just a few years ago it was the underdog in the soccer game market. But, says EA Sports president Andrew Wilson, the team refused to take the easy option.
"The easiest thing that could have been done and certainly what a lot of people were telling us was 'Pro Evolution Soccer is a great game, just copy them and then you'll win on marketing! It's a sure fire way to win.' That just wasn't that interesting to us."
Wilson was speaking exclusively to GamesIndustry International at an event introducing some of the features for FIFA 2013. He explained that even he was unsure about the brand when he first took a role working on FIFA.
"I can remember at that time when I got offered the job I asked some friend of mine 'should I take this job?' Because FIFA wasn't liked outside the company, and wasn't liked inside the company. Because we weren't, as a company, building a great game."
I can remember at that time when I got offered the job on FIFA I asked some friend of mine 'should I take it?'

Andrew Wilson
He mentioned sitting with the FIFA team at 2am, looking at a broken build of the game and wondering if the series would ever be successful. The defining moments came when they set an ambitious goal for the future and an extensive recruitment overhaul of EA Canada, the FIFA studio at the time, that led to an international team with 19 nationalities.
"We were like the UN of game development teams, but we were all unified around a passion for football. And I think that was the first step."
The second was convincing EA bosses to let the team focus on connected play, at a time when online was still fairly new and uncertain.
"We had this dream of wouldn't it be amazing if by the time we got to the 2010 World Cup, we could have 11 on 11 online play with 22 real humans around the globe? Wouldn't that be amazing?"
"And I remember the first time we stood up and gave that presentation the company thought we had rocks in our head."
That decision changed everything, and as the team started to work backwards from that goal, starting slowly, at 5 vs 5 play, they had to make major changes to game play.
"You had to make being a left back interesting!" laughed Wilson, explaining the thinking behind the introduction of Be A Pro.
"We said 'OK, we need to take you online and let you play as a single player online,' and then ultimately we evolved, so 5 versus 5, 10 versus 10, until we got to 11 versus 11."
"Basically we worked back from and started from the basics of control that we would need to ultimately deliver that vision, and here we are today."
Asked about one of the biggest challenges for the series, continuing to innovate on the football game without complicating it, and avoiding complacency, he pointed to Apple and analytics as unlikely guides.
"What I think we have now that we didn't have even three or four years ago is we've got 5 million online FIFA games played a day, and all of our offline modes are connected and feeding data, so we're getting billions, literally billions of telemetry events every day, terabytes of data.
"We've now got live analytics teams that run millions of queries against thousands of tables every day. The last stat I heard which was an interesting throwaway is we process more data everyday than the entire printed collection of the US Library Of Congress."
The first time we stood up and gave the presentation about 11 versus 11 online the company thought we had rocks in our head

Andrew Wilson
He argued this information gives the FIFA team a "unique understanding" of the game's players, and the feedback from 10 million people everyday helps to guide the team's focus when it comes to innovation.
"With the iPhone for the most part what Steve Jobs did was he said 'listen, I'm going to innovate for the phone, talking into a phone? That works, I'm not going to screw with that, but there's a whole range of other things that I'm going to do that relieve you of the frustrations of life and help you do things better than you have ever done them before," he explained, tapping his iPhone.
"That's how our FIFA team operates. They use this data that comes, these terabytes of data, to understand what are the things they've got to keep and enhance, and where are the frustration points where they can make a better world for their gamer."
He's also a man who clearly believes in a connected future for the EA Sports brands. He says any game without some form of connected play is "dead media," and that gamers demand something more, be it online play that reacts to changes in the real world, such as EA Sports Football Club, or play on other devices that brings incentives in console games.
"Like a 90 rated game is the expectation on console, moving forward a 90 rated game supported by an annual service that connects you with tens of millions of gamers around the world across platform is going to be the new definition of quality."
It's worth noting the EA recently released UEFA Euro 2012 as a digital release only, and Wilson also said gamers could expect to see apps, similar to Mass Effect and the Mass Effect Datapad for iPad, appearing for EA Sports brands soon.
"This concept of service is really where our games are today, and certainly the strategy for our games in the future. "