Digi-Capital: Disruptive mobile and a growing market
Games monetise four times more effectively that all other mobile app types combined, says investment bank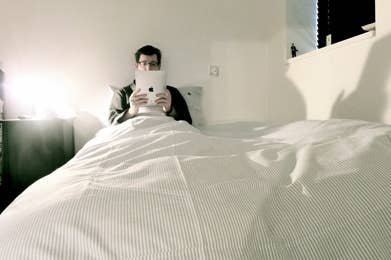 A new report from Digi-Capital has made strong assertions about the role of mobile in the games industry: citing it as the most disruptive technology in the market. The report also identifies a gap in the investment market, suggesting the role of Kickstarter is complementary to more traditional investment methods.
Mobile
Currently, gaming makes up 43 per cent of mobile usage on iOS and Android devices, and top five countries for app revenue are the United States, Japan, China, the UK and South Korea. Games monetise four times more effectively that all other mobile app types combined.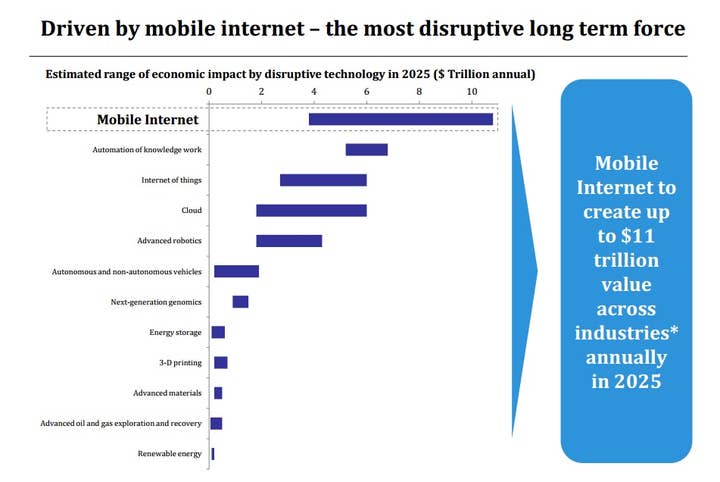 In 2012, mobile and online games were responsible for 49 per cent of global video games revenue. In 2016 that increased to 57 per cent. The report predicts that as a whole, mobile internet will be responsible for $11 trillion of value by 2025, that mobile could grow the games market alone to $83 billion, "and take a >55 per cent revenue share at $48 billion in 2016F."
Some of the skills and approaches that those mobile and online companies are using include multiple distributors, fast failure, low cost development and a clever use of data with strong analytics guiding commercial decisions.
Games investment
While mobile and online are also strong performers in the mergers and acquisitions market, overall games M&A value for Q2 2013 declined by 47 per cent pro-rata from 2012, with a noticeable drop in average deal size, thanks to fewer giant sales. Average deal size actually fell 54 per cent to $22.9 million.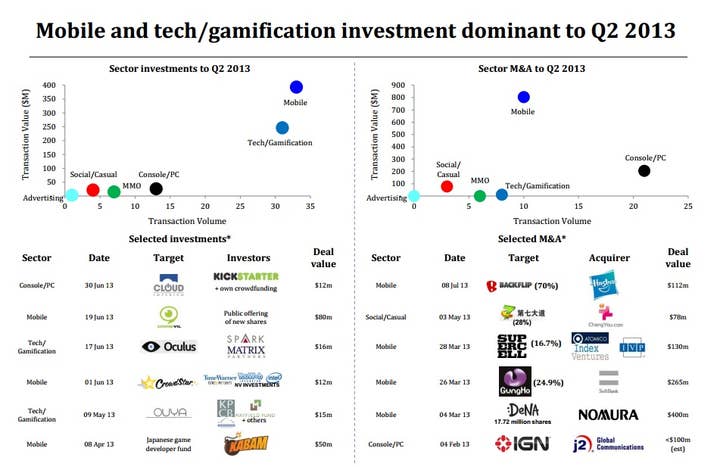 Games investment as a whole value and volume both grew in Q2 2013, but still can't match the record levels seen in 2011. For instance, investment value in that year stood at $2 billion, Q2 2013 was $706 million (a 63 per cent pro-rata growth from 2012.) For investors games are still a relatively strong bet to make, between 2005 and 2012 mergers and acquisitions and IPO returns (based on market captilisation estimates) offered a 6 times return on investment. And, says Digi-Capital, there is currently an investment gap.
"Post-Zynga IPO, many VC games investors have exited the games market completely, there is a mismatch between investment demand and supply. There could be mispricing across both private and public games markets in 2013."
As seen in the slide below Digi-Capital suggests that Kickstarter, even with the successes seen by companies like Double Fine, have so far only complemented more traditional VC investments.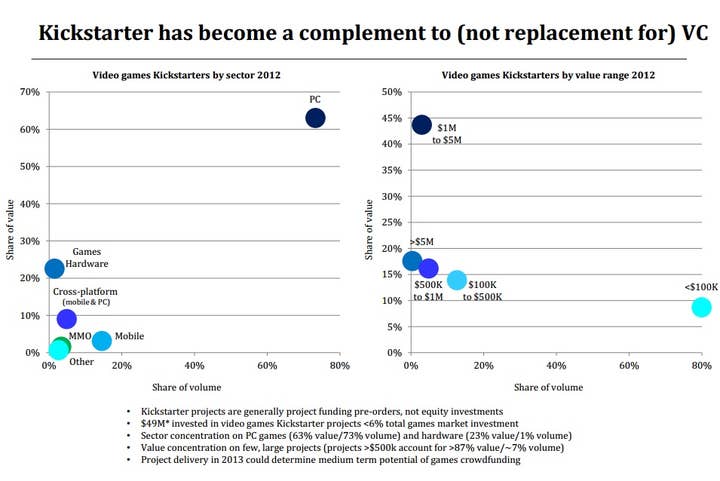 Investment opportunities
The report also identifies a number of investment opportunities across the industry, for everyone from VC investors to major games companies.
Among the things that VC and private equity firms should be looking at are mobile and social games in the early to late stages, with further investment options when those games go cross platform. Cross platform MMOs are also an opportunity, while tech, gamification and advertising platforms are also highlighted.
Opportunities for online and mobile companies are more numerous, and include bringing strong IPs to domestic markets and commercial branding partnerships. Game funds are another option, as well as mergers and acquisitions - but those are on the smaller side of the scale, to risk any damage to value.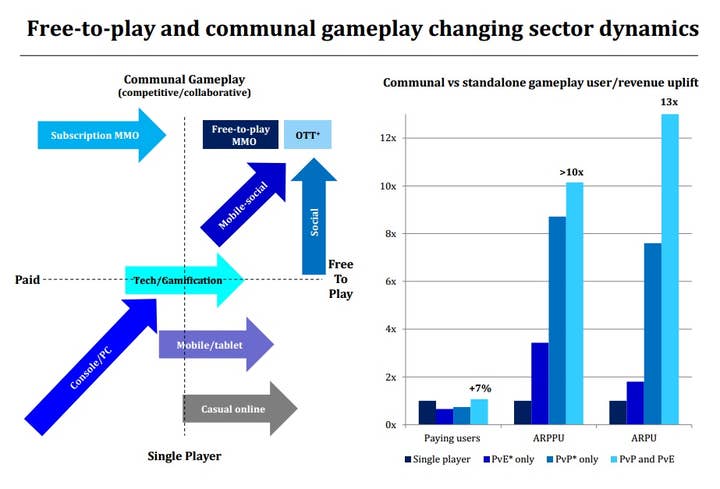 Indies have a very different set of investment paths on offer, namely the chance to exit to a major games consolidator or use funds from equity firms and VCs. Assets that are failing to shine can also be redeployed or disposed of completely through mergers and acquisitions.
As for the consoles, existing IPs can be spread across different platforms and to the mid-core gaming audience. Those IPs can also be used for free-to-play MMOs with a cross platform potential. It highlights limited investment in new IPs until the PlayStation 4 and Xbox One arrive. Snapping up AAA studios in need of financial support is also an option.
Digi-capital also suggests that there are still issues surrounding the Xbox One and PlayStation 4 and its ability to boost the console markets, thanks to questions surrounding the growth rate of install bases, the shift to digital distribution and the impact of free-to-play.
You can see the report in full at http://www.digi-capital.com/