Thomas Was Alone heading to PlayStation
Console version to feature commentary, DLC and cross buy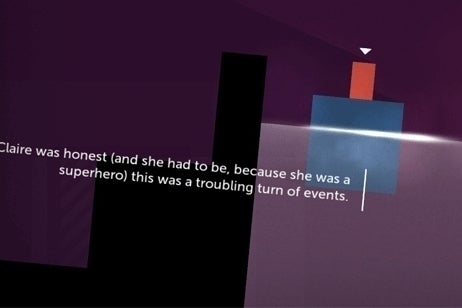 Mike Bithell's indie hit Thomas Was Alone is heading for the PlayStation Store and PlayStation Vita, with a little help from Curve Studios and his old employers Bossa Studios.
Bithell has teamed up with Sony Computer Entertainment and Curve Studios to help bring the game, complete with a new director's commentary and DLC, to the PlayStation platforms in the spring.
"I am incredibly proud to see Thomas getting a mainstream console release and the guys at Curve Studios are doing an awesome job making this version special," said Bithell, who recently spoke to GamesIndustry International about leaving Bossa to concentrate on solo projects.
"Thomas took over my life for the last two years so it's great to see it reaching an even wider audience".
The game was originally released for PC last July to critical acclaim. The new PlayStation versions will come with the cross buy feature, so users purchasing it for PlayStation 3 can claim a free version for their Vita handheld.
"We are delighted to be welcoming Thomas onto our platforms and it has been a huge pleasure to work with such talented developers to bring this unique and charming story to our users," added SCEE's Shahid Ahmad.
"To have such an original indie title available on both PS3 and PS Vita is fantastic, it's a game with wit and personality and we are sure its arrival on PlayStation platforms will be met with real enthusiasm by our users."