Axiom Verge producer files suit against BadLand Publishing for $200k
Dan Adelman alleges publisher hasn't paid share of European distribution earnings, flaked on promise of healthcare fund for developer's ill son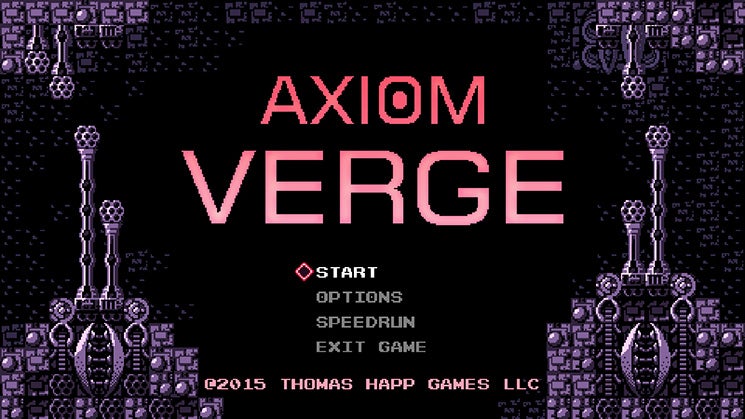 Original story, March 15, 2018: Following the news that a physical edition of Axiom Verge on the Wii U is launching at last after a two-year-long falling out between distributor Limited Run Games and once-publisher BadLand Publishing, producer Dan Adelman says he's in a legal battle of his own with the latter.
In a Twitter thread, Adelman relates his portion of the events that led to Axiom Verge's release later this month. According to him, BadLand Games originally secured the contract to publish the game with a generous offer. BadLand would match what other publishers were offering, and also promised to contribute 75% of their own sales cut to a medical expenses fund for solo developer Thomas Happ's son, Alastair, who suffers from a neurological disorder called kernicterus.
When the time came to produce the discs and cartridges for the various North American platform releases of the game, BadLand "kept stalling," according to Adelman. Ultimately Happ ended up funding the manufacture of the game's North American retail copies, terminating BadLand's distribution rights for the territory and agreeing to compensate the publisher for the work it had already put into the regional release. Axiom Verge ended up effectively self-published in North America, though Adelman says they remained quiet about the issue under the assumption that BadLand was still operating in good faith.
As for Europe, Adelman says BadLand maintained publishing rights and funded the game's production, but when asked to pay Happ's portion of the sales and the money owed for Alastair Happ's fund, BadLand stopped communicating.
Speaking to GamesIndustry.biz, Adelman says he and Happ have since filed a lawsuit against BadLand for $200,000, but that they don't actually know exactly how much BadLand owes them between the sales portion and Alastair Happ's money. The $200,000 is an estimate, and they have also requested to inspect BadLand's records to see if the amount is larger. Adelman declined to comment further on the status of the lawsuit, not wanting to jeopardize the case.
"It's frustrating to see BadLand Publishing tweet about new games they're releasing, no doubt funded with the money they owe LRG and Tom Happ," Adelman's tweet thread concludes. "BadLand has literally stolen money from a disabled toddler."
Previously, BadLand Publishing said that it has settled 90% of the debts it owed as BadLand Games prior to the latter company's dissolution in late 2018. Limited Run is currently suing the publisher for $78,000 after it failed to deliver 6,000 physical copies of Axiom Verge on the Wii U.
Upon reaching out to BadLand Publishing for comment, CEO Luis Quintans confirmed Adelman's account of the story and said he was aware of the lawsuit. He went on to say that BadLand had offered a soft repayment plan similar to what it had offered Limited Run, but that his proposal had not been accepted. "Everybody wanted to recover the money at the same time," he said, "but it was impossible for us in that moment."
When asked, he also reaffirmed the company had paid off 90% of what it owed as BadLand Games and that the $78,000 owed to Limited Run and the money owed to Happ were included in the remaining 10%.
Update, March 18, 2019: Quintans posted a statement on his Twitter account over the weekend in response to this story and the above-linked story about BadLand's dealings with Limited Run Games.
"I understand that, due to the extreme situation we were going through, our way of doing things has not been ideal, and I am sorry for the damages this has caused to the parties involved, but I want to reiterate that I am still willing to reach out and assume the payment of the debt, which I have never refused, to avoid further damage to companies and people involved in this situation," he said.
He added that, "due to the seriousness of some of the accusations that have been made in relation to this issue, I have been forced to put this matter in the hands of my lawyers, who reserve the right to take legal action against anyone who might make public inaccurate or false information harmful to the interest of the company in which I now work, BadLand Publishing, or my own."
Additional reporting by Brendan Sinclair