Splatoon franchise scores its first ever UK No.1 | UK Boxed Charts
But the latest entry doesn't quite reach the heights of the last one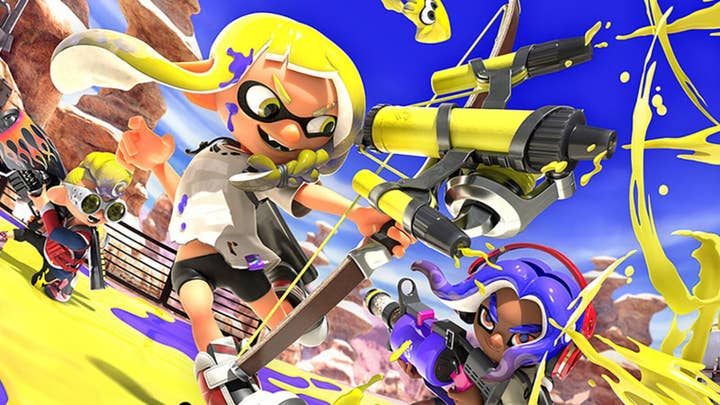 Splatoon 3 shoots straight to the top of the UK boxed charts this week.
It's the first game in the series to do so, with the 2015 original game (released on Wii U) and its 2017 sequel (on Nintendo Switch) missing out at No.2
The third game's launch sales are slightly below (down 9%) compared with the second title, although this only factors in physical sales. Splatoon is a rare Nintendo game that focuses on online play, so it may have performed more strongly via the Nintendo eShop.
"Splatoon Wii U and Splatoon 2 on Switch both debuted at No2 on the GfK Entertainment All Formats Chart in their launch weeks, with Splatoon held off by The Witcher 3: Wild Hunt and Splatoon 2 held off by Crash Bandicoot N.Sane Trilogy," GfK boss Dorian Bloch tells GamesIndustry.biz.
"Splatoon Wii U had no official hardware bundle at launch – that actually arrived four weeks after. Splatoon Wii U arrived two and a half years after the introduction of Wii U, to quite a small install base of around just 400,000 consoles.
"Meanwhile, Splatoon 2 on Switch did have an official hardware bundle at week one. At launch the official bundle accounted for 57% of Switch hardware in that week and around 17% of actual Splatoon 2 software sales.
"Splatoon 2 arrived very early in the Switch hardware lifecycle, just 21 weeks after the console launched in UK, at the time with around 230,000 install base"
Although there was an official Splatoon 3 console, it didn't come bundled with the game.
Bloch adds that Splatoon 3 is the 21st best week one on Switch in terms of games sold (as opposed to revenue), just behind Splatoon 2.
Elsewhere, last week's No.1 – The Last of Us: Part 1 falls to No.4 after a 66% sales drop in its second week.
NBA 2K23 debuts at No.6, which is three places below what its predecessor managed, with physical boxed sales 29% lower this year than last time. 56% of 2K23's sales were on PS5, 16% on PS4, 14% on Xbox Series X and S, 9% on Xbox One and 4% on Nintendo Switch. Note: This is purely boxed physical unit sales.
Further down the charts, Temtem from Humble Games reached No.21 and Steelrising from Nacon/Maximum Games is at No.29.
Here is the GfK UK Boxed Top Ten for the week ending September 10:
| Last Week | This Week | Title |
| --- | --- | --- |
| NEW | 1 | Splatoon 3 |
| 2 | 2 | Horizon: Forbidden West |
| 5 | 3 | Mario Kart 8 Deluxe |
| 1 | 4 | The Last of US: Part 1 |
| 7 | 5 | Nintendo Switch Sports |
| 1 | 6 | NBA 2K23 |
| 9 | 7 | Animal Crossing: New Horizons |
| 10 | 8 | Minecraft (Switch) |
| 6 | 9 | Saints Row |
| 5 | 10 | Pokémon Legends: Arceus |