Ark expansion sparks familiar Early Access concerns
Community factions kick back against paid Scorched Earth DLC ahead of Survival Evolved's full release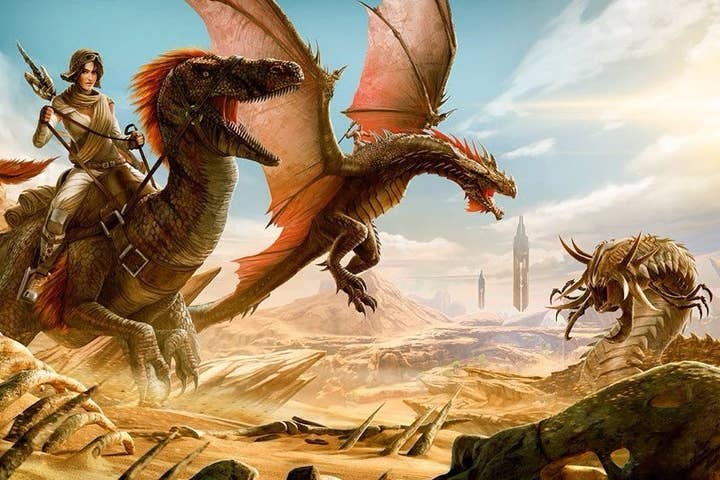 For a long time, Studio Wildcard's Ark: Survival Evolved has been an example of Early Access done right, but the release of a paid DLC pack, Scorched Earth, has caused outrage within its community.
Scorched Earth was released on September 1, at a price of $20. Studio Wildcard even described the expansion as "completely finished," no doubt to reassure Ark players of its quality. However, that perception has stirred up the game's community, which has invoked familiar concerns about how the Early Access model should work.
On Steam, Ark's "Overall" reviews have swung from Positive to Mixed, while "Recent" reviews have changed from Mostly Positive to Mostly Negative. The basis of the backlash is that, from a consumer perspective, buying into an Early Access game is a balance between both value and risk: hours and hours of gameplay for (often) a lower price point, but of a product that is a work-in-progress that may never actually become a finished product.
"Way to release paid DLC before getting the game out of Early Access"

Synthetic, Steam user
A survey of its Steam reviews provides an insight into the common concerns. "Way to release paid DLC before getting the game out of Early Access," said Synthetic, an Ark player, on Steam. "Seriously what is going through your heads? How's DirectX 12 and the TrueSky fix coming that have been sitting on your to do list since the game came out on Early Access?"
Another contentious issue seems to be Survival of the Fittest, a popular Ark mod that Wildcard attempted to spin out as a standalone free-to-play product in April this year. Last month, it reversed that decision, citing its lack of experience monetising free-to-play games. "We don't know much about monetisation, and quite frankly we aren't interested in hiring an economics team to take over that process," the company said. However, there are parts of Ark's core community that regard such activities as a distraction from the primary task of completing the main game.
Fundamentally, Wildcard believes it is charging a fair price for a quality product. Indeed, as Eurogamer highlighted, one member of the Ark team took exception to the backlash in a now deleted post on Steam. "[Wildcard] should have uploaded it for free, really? We made essentially an entire new game to compliment the existing one, do we not deserve to be paid?"
However, the content of that response misses the point, which is not about the quality of a given piece of expansion content, but whether paid DLC has a place within the Early Access model. Studio Wildcard has created and nurtured a distinctive product in collaboration with its community, so does it owe them a finished game before it seeks ways to bring in more revenue, or commits resources to something that simply must be sold to be justified?
Mohawk Games' Soren Johnson addressed similar issues in a lengthy post-mortem of his Early Access experience with Offworld Trading Company. In Johnson's view, the main problems with the model relate to the lack of clear distinction between an Early Access product and a consumer product. He called for Valve to allow developers to have unlisted store pages, to shut off user reviews, and to prevent developers from driving sales through discounts, the aim of which would be to "send a clear message" about the real purpose of Early Access; a platform for developers to experiment and iterate on their games with the help of a "special kind of consumer."
"We understand that this isn't everyone's cup of tea"

Studio Wildcard
Yesterday, Studio Wildcard offered an official explanation, though one that doesn't directly address the decision to charge $20 for the content:
"Our original vision for Ark always included the creation of Expansion Arks, along with the infrastructure and technical systems to transfer data dynamically between live Arks. We determined that it is more sound to iterate on these systems during Early Access than after retail launch, given the significant risks involved if we didn't 'get it right.'
"While that meant unveiling the first Expansion early, it also means an easier time integrating further post-launch Expansions into the ARK network. We understand that this isn't everyone's cup of tea, and we appreciate the enjoyment people seem to be getting out of this initial view of how Expansion Arks can work. Now that we have the systems in place to support them, we can ensure minimal integration issues with subsequent releases after Ark: Survival Evolved itself has launched."
What the statement tacitly acknowledges is that Wildcard does regard Scorched Earth as the kind of content it had planned to release after the finished version of Survival Evolved - which is expected to launch in Q4 2016. At the time of writing, Steam Spy estimated that Ark: Survival Evolved had more than 3.6 million owners, including a free weekend in July this year.