Zynga acquiring NaturalMotion for $527 million
Social publisher picks up Clumsy Ninja dev, lays off 15% of workforce, reports year-end results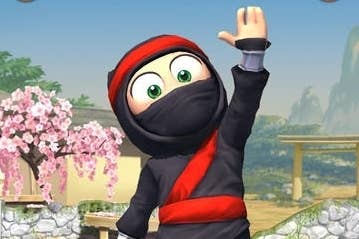 It's been a busy day for Zynga, as the social gaming publisher announced a nine-figure acquisition deal, major layoffs, and fiscal fourth quarter results that show the company still in the process of turning the business around.
Starting with the addition, Zynga has agreed to acquire mobile game developer NaturalMotion in a deal comprising $527 million in cash and equity, the company confirmed today.
Founded in 2001, NaturalMotion has scored a number of recent successes in the mobile market with CSR Racing and Clumsy Ninja, the latter of which was downloaded 10 million times in its first week. Beyond developing games, NaturalMotion has also produced animation and artificial intelligence middleware including Morpheme and Euphoria.
"We believe that bringing Zynga and NaturalMotion together is the right step at the right time," said Zynga CEO Don Mattrick. "Our acquisition of NaturalMotion will allow us to significantly expand our creative pipeline, accelerate our mobile growth and bring next-generation technology and tools to Zynga that we believe will fast track our ability to deliver more hit games. Their creative portfolio aligns perfectly with our content strategy as Zynga will now have five top brands and capabilities in the Farm, Casino, Words, Racing and People categories."
At the deal's closing, NaturalMotion shareholders will receive $391 million in cash and 39.8 million shares of Zynga Class A Common Stock, with 11.6 million of those shares vesting over the following three years to retained NaturalMotion employees. Currently the developer has about 260 employees spread between Oxford, London, Brighton, and San Francisco.
Moving to the layoffs, Zynga has announced it is reducing its work force by 15 percent, or 314 employees as part of a cost-reduction plan expected to produce pre-tax savings of $33 million to $35 million in 2014, excluding a $15 million to $17 million pre-tax restructuring charge it will record in the current quarter. Mattrick explained the cuts in an email to employees today, saying they came as a result of looking at ways to reduce costs in the two quarters since he came on board.
"When we reviewed the support areas and looked at what was an appropriate size to have agile, dedicated teams, we decided to redeploy and right size against our best opportunities for growth," Mattrick said, adding, "We don't take these decisions lightly but we believe these actions will allow us to create a clearer, faster path to win."
As for the company's recent financial performance, Zynga reported revenues of $176.4 million for the three months ended December 31, down 43 percent year-over-year. Net losses for the quarter came in at $25.2 million, an improvement from the $48.6 million lost in the prior year quarter. As for non-GAAP numbers, Zynga modestly beat its guidance on bookings, as the company logged $146.7 million in the fourth quarter, but still fell well shy of the $261.3 million it posted for the holiday quarter a year earlier. The company also reported a non-GAAP net loss of $20.8 million, compared to a non-GAAP profit of $6.9 million for the fourth quarter of 2012.
The full-year results looked much the same for Zynga. Revenues were down nearly 32 percent to $873.3 million, but net losses were sharply trimmed to $37 million, down from $209.4 million the year before. Bookings were also down 38 percent to $716.2 million, while the previous year's profit of $58.2 million was instead a net loss of $34.1 million.
Looking ahead, Zynga expects the current year to see a turnaround in its fortunes. The company is projecting a first quarter non-GAAP loss per share of $0.01 (net losses between $49 million and $56 million), but has targeted non-GAAP earnings per share for the full year of $0.01 to $0.03.