Yokai Watch 2 still on top in Japan
Hardware sales tumble in the absence of new releases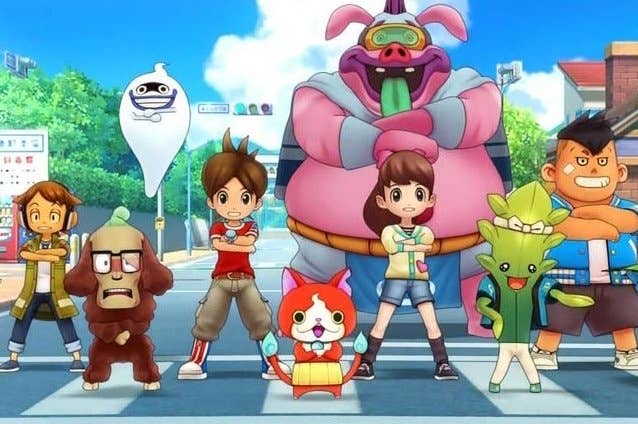 Yokai Watch 2: Shinuchi maintained its dominance in Japan with ease last week, with no new entries and low unit sales all round.
Level-5's hit 3DS title shifted another 75,000 units, handily beating Pokemon Omega Ruby / Alpha Sapphire's 38,000. The top five was rounded out by the Wii U and 3DS versions of Super Smash Bros. and Monster Hunter 4 Ultimate, but nothing else in the top 20 sold much more than 10,000 units.
The same was true in hardware sales, with every single platform seeing a fall in sales. In certain cases the decline was steep: New 3DS XL, PlayStation Vita, PlayStation 4, New 3DS and the Wii U (the top five platforms in the country) all fell by at least 50 per cent over the prior week.
The Media Create software and hardware charts are below, as reported by Gematsu.
1. [3DS] Yokai Watch 2: Shinuchi (Level-5, 12/14/14) - 74,998 (2,322,127)
2. [3DS] Pokemon Omega Ruby / Alpha Sapphire (Pokemon, 11/21/14) - 38,420 (2,432,659)
3. [3DS] Super Smash Bros. for Nintendo 3DS (Nintendo, 09/13/14) - 23,667 (2,096,515)
4. [3DS] Monster Hunter 4 Ultimate (Capcom, 10/11/14) - 21,453 (2,412,467)
5. [Wii U] Super Smash Bros. for Wii U (Nintendo, 12/06/14) - 18,884 (548,128)
6. [3DS] Yokai Watch 2: Ganso / Honke (Level-5, 07/10/14) - 10,281 (3,074,502)
7. [PSV] Gundam Breaker 2 (Bandai Namco, 12/18/14) - 9,460 (111,229)
8. [PS4] Grand Theft Auto V (Rockstar Games, 12/11/14) - 9,211 (144,876)
9. [Wii U] Mario Kart 8 (Nintendo, 05/29/14) - 8,884 (889,064)
10. [3DS] Animal Crossing: New Leaf (Nintendo, 11/08/12) - 7,991 (3,893,111)
1. New 3DS LL - 30,455 (76,439)
2. PlayStation Vita - 21,536 (56,700)
3. PlayStation 4 - 19,118 (42,216)
4. New 3DS - 14,226 (40,338)
5. Wii U - 10,803 (30,031)
6. PlayStation 3 - 8,216 (17,867)
7. 3DS - 6,685 (17,293)
8. 3DS LL - 6,308 (19,096)
9. PlayStation Vita TV - 791 (1,305)
10. Xbox One - 563 (637)