VR treadmill dev gets $3 million investment
Tekton Ventures and Maveron lead seed funding for creator of Kickstarted peripheral Omni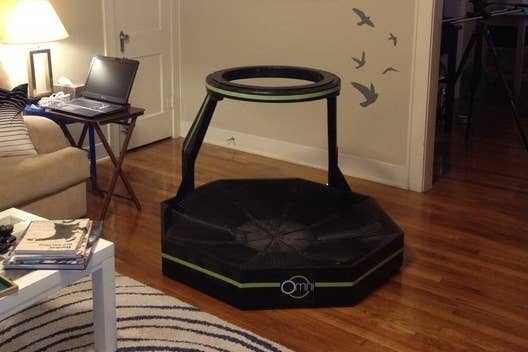 The Facebook acquisition of Oculus has dominated headlines, but it's far from the only investment in virtual reality taking place these days. Virtuix today announced that it had completed a $3 million round of seed investment that it will put towards the completion and sale of its Omni VR treadmill.
The Omni gained notoriety last year when Virtuix ran a successful Kickstarter campaign for the treadmill. The company had been seeking $150,000, but blew past that mark in under four hours, eventually raising $1.1 million to develop the technology, which works with VR headsets to let players move around instead virtual environments. Virtuix has more than 3,000 preorders for the $500 Omni, with treadmills expecting to start shipping to consumers this summer.
The seed funding round is being led by Tekton Ventures and Maveron, with additional participation from Scentan Ventures, Radical Investments, Scout Ventures, StartCaps Ventures, and private investors.
"We believe Virtuix's virtual reality technology will not only disrupt the immersive gaming landscape but will enable even more useful, personal and entertaining experiences in areas beyond gaming: training and simulation, fitness, medical, military," said Tekton founder and managing partner Jai Choi. "The Omni is just scratching the surface to the possibilities and we're honored to be working with Jan [Goetgeluk, Virtuix CEO] and the Virtuix team."