US game spending up 18% to $5.6 billion in March, says NPD
Monster Hunter Rise and Outriders debut in second and third as sales tracker reports overall US game spending sees 13th straight month of year-over-year growth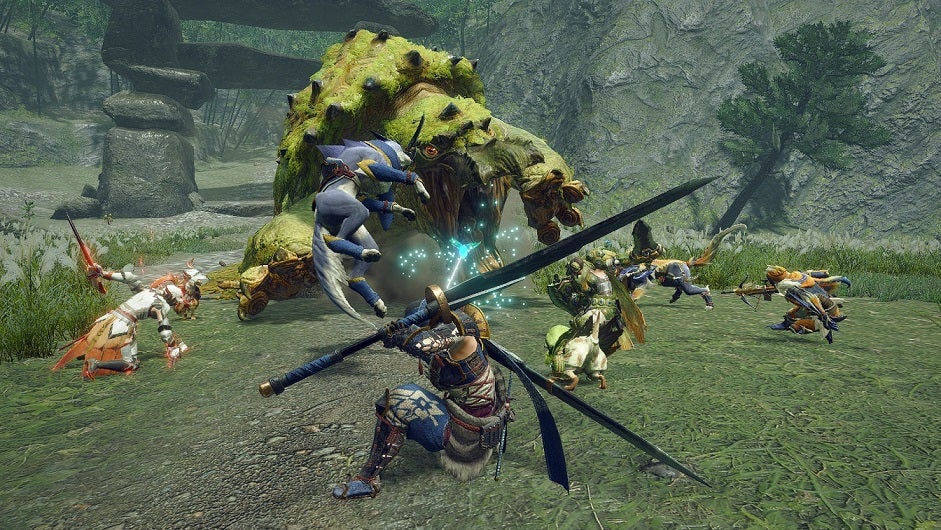 The industry-tracking NPD Group today reported its results for March today, showing growing US game spending for the 13th straight month.
Industry-wide, the NPD Group found that last month's US spending on games was up 18% year-over-year to $5.6 billion.
Hardware saw the greatest growth, with sales up 47% to $680 million.
Nintendo's Switch led the way in terms of both unit sales and dollar sales for March, but the PlayStation 5 continues to sell well enough that it has brought in the most dollar sales of a platform over the first quarter of the year.
According to the NPD Group, the PS5 is the best-selling console in US history in terms of both lifetime dollar and unit sales through five months of release.
As for software, total gaming content spending across console, mobile, PC, cloud, and subscription services was up 14% to $4.6 billion.
February champ Super Mario 3D World + Bowser's Fury (physical sales only) enjoyed a short reign atop the charts, giving the title back to Call of Duty: Black Ops Cold War in March and dropping to fourth place.
In between those two titles were a pair of new releases, as Capcom's Switch-exclusive Monster Hunter Rise was second on the charts, with the People Can Fly shooter Outriders arriving in third. Rise had the second-best debut month in terms of dollar sales of any Monster Hunter game, trailing only Monster Hunter World.
And while Crash Bandicoot 4: It's About Time first arrived last October, the March debut of the game on Switch, Xbox X|S, and PS5 helped push it up to 15 on the top 20 best-seller charts, a full 50 spots higher than its February chart position.
Finally, accessories were up 26% to $300 million, with the PS5 DualSense controller the best-selling peripheral of the month.
The year-over-year comparisons are getting tougher for the industry heading forward, as April 2020 was the first full month with COVID-19 pandemic closures and shelter-at-home measures around the US.
Last year, the NPD reported April spending on games up 73% year-over-year. (At the time, the NPD's monthly report did not include mobile spending, subscriptions, and other major contributors to the consumer spending figure that have since been added.)
Here are the US Top 20 (based on dollar sales) for the period between Feburary 28 and April 3, 2021, courtesy of The NPD Group:
| Last Month | This Month | Title |
| --- | --- | --- |
| 2 | 1 | Call of Duty: Black Ops Cold War |
| NEW | 2 | Monster Hunter: Rise |
| NEW | 3 | Outriders |
| 1 | 4 | Super Mario 3D World + Bowser's Fury* |
| 4 | 5 | Marvel's Spider-Man: Miles Morales |
| 9 | 6 | Mario Kart 8 Deluxe |
| 7 | 7 | Assassin's Creed Valhalla |
| 10 | 8 | Animal Crossing: New Horizons* |
| 16 | 9 | Super Mario 3D All-Stars* |
| 8 | 10 | Minecraft |
| 11 | 11 | Call of Duty: Modern Warfare (2019) |
| 14 | 12 | Super Smash Bros. Ultimate* |
| 19 | 13 | Pokémon Sword/Shield* |
| 15 | 14 | Mortal Kombat 11 |
| RE-ENTRY | 15 | Crash Bandicoot 4: It's About Time |
| 20 | 16 | The Legend of Zelda: Breath of the Wild* |
| 5 | 17 | Madden NFL 21 |
| 13 | 18 | NBA 2K21* |
| RE-ENTRY | 19 | Super Mario Party* |
| 12 | 20 | FIFA 21 |
*Digital sales not included