UK Charts: Far Cry New Dawn is No.1, but Metro Exodus is the real winner
Crackdown 3 manages No.13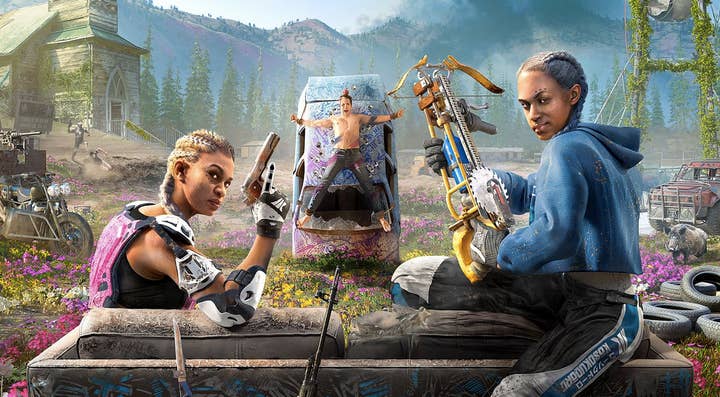 Far Cry: New Dawn is this week's No.1 game in the UK boxed retail charts.
It was the most competitive release week since before Christmas, with four big new games entering the Top 20.
Although Far Cry managed to top the charts, it isn't an especially impressive opening week. The game's launch week sales are 86.5 per cent down over last year's Far Cry 5. Of course, this is a spin-off Far Cry title, and so the comparison isn't overly fair. Yet even compared to 2016's Far Cry Primal (the previous spin-off), sales are a fraction of what we'd typically expect (Far Cry Primal sold almost four times as many units in its first week as New Dawn has).
60 per cent of Far Cry: New Dawn sales came on PS4, 39 per cent on Xbox One, with the rest on PC (physical sales only).
A company that will likely be feeling happier with the result this week is Deep Silver. Metro Exodus missed out on No.1 by just 2,000 units. Yet more significantly, the game has posted a better opening week than 2013's Metro Last Light (released on Xbox 360, PS3 and PC). This result is even more impressive when you consider the growth of digital sales in the six years between the two titles (digital game sales are not counted in this data).
Launch physical sales for Metro Exodus are almost 50 per cent higher than Last Light. 57 per cent of Metro Exodus sales came on PS4.
Next up in terms of new releases is Bandai Namco's Jump Force at No.4. Its a strong opening performance for the fighting game, and continues an impressive few weeks for the publisher (following recent strong sales of Tales Of and Ace Combat). The game performed best on PS4, accounting for 76 per cent of the game's launch sales.
The most disappointing launch of the week belongs to Microsoft's Crackdown 3, which only made No.13. The game's launch sales are barely 10 per cent of what Crackdown 2 managed in 2010. Of course, the industry was very different back then. Xbox 360 was the market leading console, digital sales were not as significant as they are today (again, only physical is counted here) and Crackdown 3 will likely have picked up a fair few users via the Xbox Game Pass subscription service (which isn't included here).
That's your lot for new releases. Last week's No.1 Red Dead Redemption 2 falls to No.3. FIFA 19 tumbles from No.2 to No.5. While recent release Resident Evil 2 slides down from No.4 to No.6. Finally, Kingdom Hearts III drops from No.3 to No.8.
Next week isn't quite so cluttered for physical releases, although it will see the launch of EA's big new IP: Anthem.
Here is the UKIE/GfK Top Ten for the week ending February 16th:
| Last Week | This Week | Title |
| --- | --- | --- |
| New Entry | 1 | Far Cry: New Dawn |
| New Entry | 2 | Metro: Exodus |
| 1 | 3 | Red Dead Redemption 2 |
| New Entry | 4 | Jump Force |
| 2 | 5 | FIFA 19 |
| 4 | 6 | Resident Evil II |
| 6 | 7 | New Super Mario Bros U Deluxe |
| 3 | 8 | Kingdom Hearts III |
| 7 | 9 | Mario Kart 8: Deluxe |
| 5 | 10 | Call of Duty: Black Ops 4 |